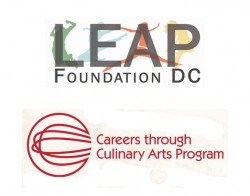 Washington, DC, September 14, 2014 --(
PR.com
)-- Since its inception, LEAP Foundation DC has been actively involved in providing and supporting educational initiatives and events in the greater D.C. area to benefit minority communities. On Monday, September 15th, the foundation will have a unique opportunity to support two young men seeking to build lifelong careers in the culinary arts industry as it sponsors their attendance of another D.C. non-profit, Career through the Culinary Arts Program (C-CAP), and its celebrity chef dinner.
C-CAP's Washington DC Region Celebrity Chef Five-Course Tasting Dinner, honoring Chef Richard Sandoval, will serve as a multi-faceted event. Not only will those in attendance be exposed to the best in culinary cuisines, but it will also provide young people with an introduction to some of the top chefs in the industry, serving as an important networking opportunity for many starting to build their culinary careers.
C-CAP is a pioneer and national non-profit leader that provides scholarships, education, and career opportunities in the culinary arts to at-risk high school students throughout the nation through its partnerships with schools in the Washington DC region. LEAP's chairman, Dr. Clayton G. Lawrence, and C-CAP board member, Sandra Hallmark, coordinated to select two deserving young men to each receive a $500 ticket to attend the event purchased for them by LEAP.
The young men, Jeffrey Taylor and Jerron Hawkins, both students at Dr. Henry A. Wise High School, were selected based on their outstanding academic performance and involvement in various activities on their campus. Jeffrey, 17, has been actively involved as a student member on the Prince Georges County Board of Education, has served as the Senior class President, Vice-President of the National Honor Society, Parliamentarian of the Future Business Leaders of America (FBLA) Club, is the captain of his high school swim team, and plays first chair trombone in Wise High School's marching and concert bands. Jerron, 16, has been the Senior Class Secretary, a College Summit Peer Leader, and a member of the National Honor Society, Men Of Amate (African American Males Aspiring To Excel), mock trial team, swim team, a White House Mentee for the My Brother's Keeper Initiative, a member of FBLA, and is actively involved on the step team at his church.
When asked about what supporting this event meant to him, Dr. Clayton Lawrence stated, "First, to have the opportunity to provide incredible young men with the chance to attend an event that could serve as a launch pad and platform for future career success is something that means so much to our foundation. We know that Jerron and Jeffrey will take this night in and use it to guide them as they prepare for the future, and we are honored to be a part of making that happen. We look forward to seeing all of the phenomenal things that these young men do moving forward."
The dinner will be held from 6:00 p.m.to 9:00 p.m. at the Carnegie Institution for Science, 1530 P Street, NW. All funds raised will support C-CAP in its efforts to continue providing a path into the culinary arts industry for disadvantaged youth. To learn more about C-CAP and LEAP Foundation DC, visit the organizations' websites at www.ccapinc.org and www.leapfoundationdc.org.