Toronto Startup Launches Virtual Events to Help Expand Professional Networks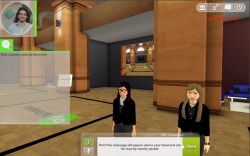 Palo Alto, CA, September 22, 2014 --(
PR.com
)-- Toronto-based NetworkFlo Inc. announced today a new online service that connects like-minded professionals through virtual networking events.
"Networking has been difficult," says Founder and CEO Nick Lebesis. "Events cost a lot of time and money to attend, and online professional networks are more focused on recruitment than the networking experience." NetworkFlo provides professionals with access by eliminating the time and monetary costs that obstruct net- working.
"You can now join and create virtual networking events conveniently from your web-browser, and for free," he says. "Our members will gain new opportunities as a result of meeting and engaging with a constant flow of both local and global professionals."
Using virtual environment technology, NetworkFlo allows users to interact with professionals organically just as they would at an in-person networking conference - only this time, they've entered the event conveniently from a web-browser.
Recent statistics confirm more than 500-million people around the world spend at least 20 hours a week wear- ing digital representations (avatars) of themselves online, and this number is growing. (IEEE ORG). Building on this trend, NetworkFlo users customize their own avatars and communicate with professionals in virtual event spaces.
NetworkFlo has successfully paired virtual environment technology and online social networking tools with the goal of connecting the world's professional community in a valuable, simple, and compelling way.
Sign up at
NetworkFlo.com
, secure your username, and experience the world's largest networking event.
Video Demonstration:
http://youtu.be/OMe0dCQOPas
Contact
NetworkFlo Inc.
Nick Lebesis
905-616-0000
www.NetworkFlo.com

Contact