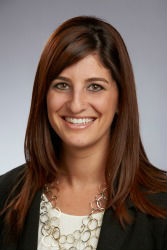 Orlando, FL, September 23, 2014 --(
PR.com
)-- The Postal Solutions Companies including their software brand Logware™ headquartered in downtown Orlando, Florida has promoted Chelsea Seidman to the role of Director of Client Services. Her former title was National Client Services Manager.
Seidman joined The Postal Solutions Companies in January of 2014 after six years as a Student Housing Property Manager and Regional Property Manager for Inland American Communities, and a Postal Solutions client. Due to the recent rapid growth of The Postal Solutions Companies, she has quickly moved into a larger role with added responsibilities from marketing, IT help and national client service management.
Craig Meddin, CEO said, "In just eight short months, Chelsea has become an integral player of our companies and in the continued development of PackageLog™ and TrackitLog™ (Logware™'s leading software in resident package tracking and property asset tracking). Chelsea excels at managing client relationships for service management and software services; we're excited she's here."
Seidman says her success in providing the client with the tools to successfully use Logware™'s products can be credited to her time as a property manager, "I know and understand property managers' pain when it comes to dealing with residents' parcel deliveries, and I am glad that I now can help them solve it!"
Seidman is excited about The Postal Solutions Companies' continued growth and planning going forward. She will focus on creating more efficient processes so that the company can best respond to clients' needs.
About The Postal Solutions Companies
Headquartered in downtown Orlando, The Postal Solutions Companies (Postal Solutions) has a 15-year history of providing mail and package delivery management services to the multifamily housing industry throughout the United States.
Logware™ is the software division of Postal Solutions and offers two Software-as-a-Service (SaaS) products, PackageLog™ (
www.packagelog.com
) and TrackItLog™ (
www.trackitlog.com
). Both Logware™ products fully integrates (syncs data) with several of the largest property management software systems in the US. PackageLog™ aids apartment property managers to easily track their residents' inbound parcels and TrackItLog™ is designed to track/manage property assets and inventory, from appliances and parking spots, to keys and IT.