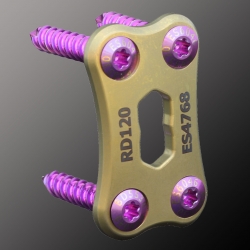 Georgetown, TX, September 26, 2014 --(
PR.com
)--
Eminent Spine
is proud to announce the release of the
Red Diamondback Rattlesnake™
anterior lumbar plate system.
The Red Diamondback Rattlesnake™ system is the 13th product to be designed and released by Eminent Spine, since 2009. The plate employs Eminent Spine's patented TriLobe® Technology allowing temporary fixation to the bone and help prevent plate rotation. The ultra low-profile anterior plate features flush screw heads. A sacral plate is offered that contours to the sacrum.
Eminent Spine's thoracolumbar platform consist of: the Cottonmouth® ALIF PEEK cage, the Fang Plate®, the Red Diamondback Rattlesnake™ anterior lumbar plate, the Diamondback® pedicle screw, the Boa Constrictor® cross link connector, the Texas Python® PLIF PEEK cage, and the Texas Sidewinder® TLIF PEEK cage.
Eminent Spine continues to design, biomechanically test and manufacture spinal implants that are cost effective in an ever-changing health care market.