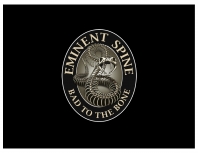 Eminent Spine is a privately owned company, founded in 2008, whose founders have pioneered a new era in spinal technology. Dr. Steve Courtney and David Freehill co-founded Eminent Spine with the idea of combining a spine surgeon's medical expertise with an engineer's experience of manufacturing and design.
Status

Private Company
Company History
Since being founded in 2008, Eminent Spine has already had 9 products that have received FDA 501(k) market clearance. ES provides cutting-edge technology to produce bio-mechanically sound, affordable devices that are truly "Bad to the Bone."

Products include:
Full-line PEEK Interbody fusion system consisting: Sidewinder (TLIF), Python (PLIF), Cottonmouth (ALIF), and the Copperhead (cervical).

Diamondback (pedicle screw system): cannulated and non-cannulated/fixed polyaxial heads/single, double, triple lead screws, straight and pre-bent rods, and a low profile Boa Constrictor (cross-link) available in 3 sizes.

Fang (buttress) Plate: Simple, 2 step process. 3 footprints available. Lowest profile Buttress plate on the market.

King Cobra (cervical) Plate: 1-4 levels available featuring Texas Twister locking mechanism. 2 size screws with varying lengths offered.