Meadowlark Vineyards Chosen as Top Producer of Red Wine by Sunset Magazine
Meadowlark Vineyards, a small family owned and operated winery in California, consistently produces award winning wines.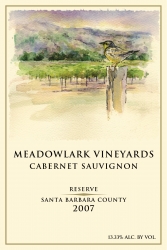 Santa Barbara, CA, September 28, 2014 --(
PR.com
)-- Meadowlark Vineyards, a small family owned winery, was chosen as one of the top producers of red wine by Sunset Magazine. With a competition of over 3,000 wines, Meadowlark Vineyards' 2007 Cabernet Sauvignon Reserve, was chosen as one of the top red wines that retail for over $40. With over 50 of the West's best palates, judges unanimously awarded Meadowlark Vineyards not only a Gold Medal, but also Best in Class for their 2007 Cabernet. The 2014 Sunset International Wine Competition was held on April 28, 2014 in Menlo Park, California.
Ramon and Sandra Guerrero own the boutique winery, which was established in 2002. "Meadowlark Vineyards is honored to receive the judges' GOLD & BEST OF SHOW award. We are truly a small family owned boutique winery and our family works very hard to ensure that we produce world-class fine wines. We would like to thank everyone who has helped in the production of our wines and we look forward to sharing our wines with our valued customers," said Ramon Guerrero when he heard the competition results. "We feel very honored of being able to produce high quality wine and at the same time being good stewards of our environment. A great deal of attention is given to our vineyards and the end result is the production of high quality grapes. The wine making process is likewise a critical component of our underlying philosophy. Our wine lots are less than 200 cases per production and cannot be found in most chain stores."
Meadowlark Vineyards wines and wine memberships can be purchased by calling (805) 245-4768 or visiting their website at www.meadowlarkvineyards.com
Contact
Meadowlark Vineyards
Ramon Guerrero
805-245-4768
www.meadowlarkvineyards.com

Contact