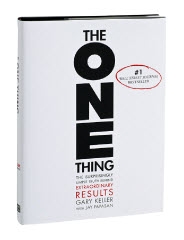 Madison, WI, October 07, 2014 --(
PR.com
)-- Why, when we have more resources at our disposal than ever, do we feel like we accomplish so little? Shawn Kriewaldt & Dan Miller of Dane County Market Real Estate Team will host internationally acclaimed trainer and consultant Don Hobbs at Marriott West to present a seminar on The ONE Thing Fundamentals.
At The One Thing Fundamentals Seminar, you will discover …
The Six Lies or "mythunderstandings" that destroy productivity and derail results.
The Three Commitments to Productivity you must make for The ONE Thing philosophy to work.
The Four Thieves that hold you up and how to stop them.
Hobbs is a highly regarded trainer, consultant and business leader who has served in numerous executive positions, including president of Jim Rohn Productions. He co-founded the advertising and marketing firm Hobbs/Herder and has advised many of the top businesses in North America.
"We all live and work in an age of abundance," Hobbs says. "While this abundance opens the doors to opportunity, we can all buckle under the pressure of its side effects: distraction, burnout and declining productivity. Simply put, we want less, but we also want more – and we can have both! We have to learn to stop doing everything and start doing our ONE Thing."
During The ONE Thing Fundamentals seminar, Hobbs will teach participants how to transform their lives and grow their businesses based on the principles and concepts from The ONE Thing. Whether you are looking to improve your business, physical health or personal relationships, The ONE Thing Fundamentals seminar will lead to transformative results.