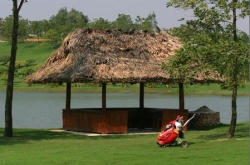 Hanoi, Vietnam, October 20, 2014 --(
PR.com
)-- The prioritized mission of Asian Travel Service is to provide clients with the professional golf services and truthful support regarding hotels, resorts, golf courses, and golf holidays.
The agent commits to offer the best advice about
Vietnam Golf Tours
and to provide exclusive experiences at the finest Vietnam Golf Courses. Through their operation and by giving highly caring advice, Asian Travel Service helps golfers with both golfing and sightseeing. The packages, including Golf and City Tours, have become big magnets for many golfers that desire to create a once in a lifetime golfing experience in Vietnam.
The international and domestic Golf Tours are offered in unique ways that suite travelers' demand and interest as a whole. The company claims to diversify the approach to promote the standard Golf tours and the exclusive discovery about the spirit of the Vietnamese via Golf.
Top-voted Vietnam Golf Courses are located throughout the country from the North through the Central and to the South. Since the list of these outstanding courses is lengthy, golfers can opt for the best courses to suite them to get the best real experience with preference by visiting the Asian Travel Service site!
Featuring exclusive deals and best rates, Asia Travel Service is experienced in operating Golf Tours throughout Vietnam. Guests will love golfing on the standard Golf Courses, sightseeing over the picturesque landscapes, talking to the professional golfers or hiring private courses for competitions; Asia Travel Service is a great varied dealer indeed.
As the first agent that designs New Vietnam Golf Tours, Asia Travel Service is a great leader that offers a variety of suitable tour packages, best deals, and informative advice for the worldwide golfer. Even if clients are searching for exciting Classic Golf Tours or Adventure Golf Holidays, the company customizes trips according to their guests' interest and budget. Also included in their Golf Services, guests can easily grasp precious info about News and Events, Daily Golf, Tournament Schedules, Vietnam Travel Guides, and Vietnam Golf Maps.
To golfers, traveling is not only about sightseeing but also about golfing and discovering the new Golf Courses, splendid Hotels, and ideal Resorts for the rest of their group. Meanwhile, communicating with the locals and tasting the Vietnam traditional cuisine are magnetic enough to win any golfers' heart.
Currently highly suggested by TripAdvisor users, Asia Travel Service Customer Support is accessible 24/7 with the rapid replies. Whether the tourists are the individual golfers or groups, do feel free to contact Asia Travel for the most satisfactory Golf Tours.
Asia Travel Service specialists will offer ideal Vietnam Golf Tours at competitive prices for tourists looking for a lifetime golfing experience and unforgettable memories.
Please visit the official website at http://golfauvietnam.com/ to find rich insights and almost anything about Vietnam Golf such as Holidays, Courses, Services, Hotels and Resorts. Freely email them at info@golfauvietnam.com.