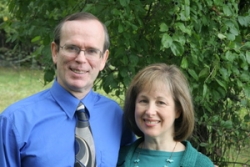 New Paltz, NY, October 16, 2014 --(
PR.com
)-- Richard P. Brown, MD, and Patricia Gerbarg, MD, award-winning authors and leaders in integrative psychiatry, will teach their ground-breaking Breath-Body-Mind Educational Workshop sponsored by the New York State Capital District Branch of the American Psychiatric Association November 14-16, 2014, at Mohonk Mountain House in New Paltz, NY. The three-day event, Friday evening through Sunday afternoon, offers CME: 13 AMS/PRA Category 1 continuing medical education for physicians at the no. 1 Resort Spa in the USA (Conde Nast Traveler magazine).
Participants will experience the physical and psychological benefits of Voluntarily Regulated Breathing Practices, Coherent Breathing, Breath Moving, Ha Breath, Qigong, & Open Focus training to improve well-being and the mental health of patients. Neuroscience, poly-vagal theory, vagal-GABA theory of inhibition, and neuro-endocrine response converge in this presentation of powerful self-regulation strategies.
Studies of Breath-Body-Mind practices for anxiety, depression, PTSD, schizophrenia, pain, and stress-related medical conditions, such as Inflammatory Bowel Disease, will be reviewed. Clinical issues to consider when introducing mind/body practices in treatment will be discussed. Adaptations of mind/body programs for military trauma and for survivors of mass disasters, including the Southeast Asian tsunami, 9/11 World Trade Center attacks, 2010 Haiti earthquake, Gulf Horizon oil spill, and war and slavery in Sudan will be presented.
Registration information is at www.breath-body-mind.com/pdf/CapitalDistrict_APA_MohonkFlyer_Breath-Body-Mind_Nov_14-16.pdf. Attendees register through Mohonk Mountain House in New Paltz, NY directly at (800)722-6646 or at mohonk.com. Identify yourself as part of the American Psychiatric Association group. Tuition is $200 for APA members, $300 for non-members, $200 for other mental health practitioners, $75 for residents and interns. Contact Nancy Sykes at nyscapitaldb at gmail.com with questions.
Overnight rooms at Mohonk are available at special rates and all meals and parking are included. For those not staying at Mohonk there is an additional charge to attend.
Dr. Brown is Associate Professor of Clinical Psychiatry at Columbia University in New York. He gives over 100 medical lectures each year, including full-day courses for the American Psychiatric Association and other professional groups, as well as workshops for non-profits such as Serving Those Who Serve in New York City. He is a certified teacher of Aikido (4th Dan), Yoga, Qi Gong, and meditation.
Dr. Gerbarg is an Assistant Professor of Clinical Psychiatry at New York Medical College. She graduated from Harvard Medical School and the Boston Psychoanalytic Society and Institute. In addition to her clinical practice, she provides consultation and facilitates the development of research projects on the health benefits of mind-body practices for recovery from mass disasters.
Dr. Brown and Dr. Gerbarg are award-winning co-authors of How To Use Herbs, Nutrients, and Yoga in Mental Health Care (WW Norton) with Philip Muskin, MD, and The Rhodiola Revolution (Rodale). Their recent books are Non-Drug Treatments for ADHD: New Options for Kids, Adults, & Clinicians (WW Norton) and The Healing Power of the Breath (Shambhala, with CD). Their Internet site at Breath-Body-Mind.com offers mental health information combining standard and complementary treatments, their research, other resources, and a free newsletter.
Breath-Body-Mind.com
Media contact: WJ Carrel