The Davenport Series Continues; "Perfect Plan II" from Author Brett Diffley Has Now Been Released
Brett Diffley has captured the attention of readers looking for that heart racing adventure. This is one of the best action/adventure/thrillers you'll ever read, taking up where Perfect Plan left off.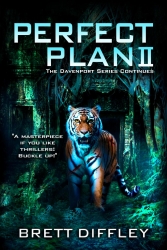 Seattle, WA, November 07, 2014 --(
PR.com
)-- Versatile as a Swiss-army knife, Perfect Plan II brings several topics together in a thrilling, heart-pounding storyline that's not only believable and filled with hope, but fun to read. The novel is a fast-paced adventure thriller about major oil-spill cleanup, human trafficking, and true stories about animals incorporated into the storyline. This is part two of the Davenport series - book three is also well under way.
Exiled to the remote mountains of Northern Syria, Kalib Akmalit has waited a full year, planning and biding his time for avenging his brother's death, a dark family past, and the downfall of Corporate Affairs—the company that made millions legally throughout the globe, but billions in the dark world of the slave market. Akmalit's deep-seated hatred is directed at the Davenports, the family solely responsible and owners of Crude Technologies---the world's foremost company in oil spill cleanup with three fleets around the globe. But this seething hatred has been hidden for years, festering, until the recent incursion into Corporate Affairs and the loss of his brother. Now the tactician unleashes his plan of redemption, and to permanently sever the long lasting---and volatile---relationship of two families.
Reed Davenport lives to make a difference, as he balances his life between the oil clean-up giant, the sanctuary, and also between man and nature itself----while fighting for both. His five-hundred-square-mile sanctuary is a huge part of that process, intended to protect some of the world's endangered animals. Located outside the comfortable borders of the United States, this leads to the ultimate confrontation when Reed Davenport and his best friend True John, captain of the oil-skimmer Arc Angel, have been lured to the sanctuary under the premise of finding poachers that are raiding Reed's private reserve. But this is a well-laid trap, leaving them out of communication from the outside world. They're also vulnerable, outnumbered, and struggling to survive in the secluded mountainous country. At the same time, this leaves the entire Davenport family and Crude Technologies unsuspecting and susceptible as this ruthless adversary sets his multidimensional plan into motion, leaving a trail of intrigue and suspense to the final page.
brettdiffley.com
Contact
brettdiffley.com
Brett Diffley
360 886 8886
brettdiffley.com

Contact