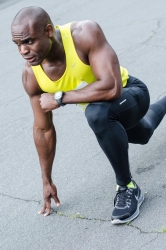 Washington, DC, November 09, 2014 --(
PR.com
)-- As LEAP, LLC, CEO and President, Dr. Clayton Lawrence, prepares for the holiday season, his focus on remaining healthy and maintaining total body wellness becomes even more important. The avid endurance athlete will participate in the Michelob Ultra Ft. Lauderdale Half Marathon this weekend and is using this event to share the significance of staying active while enjoying the holidays with others.
For the United States Army veteran and competitive marathon runner, it may not seem that approaching the holidays would be a challenge at all. Having run more than 6000 miles and 50 marathons, the commitment would seem to be engrained and second nature for him, but Dr. Lawrence speaks candidly about the challenges that everyone faces as they prepare to spend time with loved ones and attend holiday festivities.
"Staying active during the holiday season is tough for so many reasons. Not only is this the time where we are out of our normal routines by being off of work or out of school, but it is a time where we are bombarded with the option to eat much larger portions than we typically would and a time where sugary desserts are surrounding us in abundance," Lawrence states. "Finding events to participate in immediately before, during, and after the holidays is a good way to keep yourself motivated to indulge in the holidays with caution."
Lawrence has most recently run in a series of events, from the Army 10-Miler to half and full marathons, that have raised awareness and support for veteran nonprofit organizations. Each of the events supports different charitable causes and Dr. Lawrence encourages people to plan on participating in similar events, not only for the health benefit, but for the benefit of those that need it most this holiday season.
"Health, wellness, and inspiring good health and wellness in others have always been areas that I have been passionate about. While I encourage people to find ways to stay active during the holidays, one of the other important and truly meaningful benefits of participating in funs runs, 5K's, marathons, etc., is the opportunity to support phenomenal charitable causes at a time where giving truly is the reason for the season," said Lawrence.
This weekend's events in Ft. Lauderdale, hosted by Michelob, will feature 5K's, team relays, and the half marathon. For more information, visit http://www.131marathon.com/fortlauderdale/, and to learn more about LEAP, LLC, and its dedication to spreading the message of achieving true health and wellness, please visit
www.leap4staffing.com
.