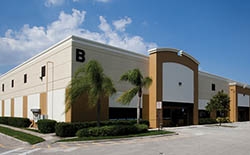 Boca Raton, FL, November 12, 2014 --(
PR.com
)-- Cushman & Wakefield announced today it has sold nine industrial buildings totaling 357,606 square feet in the Boca Raton area, part of the highly sought after South Florida industrial market.
The buildings, part of the South Florida Industrial portfolio, are in three locations: the McNab Business Park, 10300-10458 West McNab Road, Tamarac; Tamarac Business Center, 6200-6320 North Hiatus Road, Tamarac; and Park of Commerce, 6400-6500 Park of Commerce Blvd, Boca Raton.
"This is prime industrial property which is in high demand in South Florida," said Mike Davis, executive director for capital markets in Cushman & Wakefield's Tampa office. "It is more than 92 percent occupied."
The buyer, according to Davis, was Exeter Property Group, a real estate investment management firm specializing in the acquisition, development, leasing, and management of industrial and related business park properties across the U.S.
The sale price for the properties was not disclosed.
About Cushman & Wakefield
Cushman & Wakefield advises and represents clients on all aspects of property occupancy and investment. Founded in 1917, it has 250 offices in 60 countries, employing more than 16,000 professionals. It offers a complete range of services to its occupier and investor clients for all property types, including leasing, sales and acquisitions, equity, debt and structured finance, corporate finance and investment banking, appraisal, consulting, corporate services, and property, facilities, project and risk management.