Flagler Hospital and BayView Healthcare Collaborate for Better Patient Care
Use of Avancen MOD Corporation's Innovative "Medication on Demand" Device Allows Hospital and Skilled Nursing Facility to Collaborate to Improve Patient Pain Management.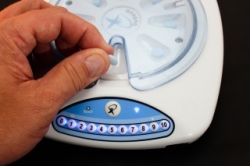 St. Augustine, FL, November 19, 2014 --(
PR.com
)-- BayView Healthcare's Samantha R Wilson Care Center in St. Augustine, FL is being recognized as the first skilled nursing facility in the nation to employ new technology to improve patients' pain management during rehabilitation. In collaboration with Flagler Hospital, St. Augustine, BayView patients recovering from orthopedic surgery can continue to use the Medication on Demand (MOD®) devices at their bedside to better manage their pain during rehabilitation. Continuity of care between a hospital and a skilled nursing facility is key to improving patient care and satisfaction.
Reducing patients' post-operative pain is a major goal for hospitals across the nation. Flagler Hospital was already providing its patients with this new technology developed and manufactured in Florida by Avancen MOD Corporation. A compact, patient-controlled device for accessing their own pain medications, the MOD® device is installed at the patient's bedside. Pain medication at the bedside allows patients to conveniently self-administer needed pain medication tablets from the device on a time schedule ordered by their physician.
"We want to give patients control over their own pain medication instead of requiring nurses to run up and down the hall dispensing one pill at a time, freeing the nurses up to do more important patient care activities," says Sharon Conley, MD, inventor of the MOD® device. "The MOD® device also records the patients' pain level and the time of administration, both standard nursing activities. Getting patients involved in their own care and recovery is a key goal of many healthcare programs today" added Conley.
"This collaboration is a milestone for the state of Florida and for patients," said Ned Buffington, CEO of Avancen. "When hospitals and skilled nursing facilities work together, it benefits the patients, their families, and the healthcare system by providing a seamless continuity of care between facilities," he continued.
BayView administrators and clinical staff conducted an informal evaluation in February 2014 and found that both the patients and nursing staff gave the device a "big thumbs up."
About Avancen MOD Corporation - Avancen MOD Corporation is a South Carolina based corporation with specializing in the development of new medical devices to improve patient care at the bedside. The Company's premier product, Medication on Demand (MOD®) is the only FDA-approved bedside device for as-needed oral pain medications. Avancen has offices in Florida and South Carolina. For more information, visit www.avancen.com.
About Flagler Hospital - Flagler Hospital is a 335 bed, acute care hospital that is consistently ranked in the top 5% of all hospitals in the nation for clinical excellence. The hospital has operated as a not-for-profit healthcare institution in St. Augustine, Florida since its founding in 1889. Flagler Hospital has earned the Joint Commission's Gold Seal of Approval for its comprehensive total knee and total hip joint replacement programs, by demonstrating compliance with the Joint Commission's national standards for health care quality and safety in disease-specific care. The certification award recognizes Flagler Hospital's dedication to continuous compliance with the Joint Commission's state-of-the-art standards. For more information, visit www.flaglerhospital.org.
About BayView Healthcare - Founded in 1920, BayView Healthcare has maintained a long tradition and commitment of providing the highest quality health care services and charitable assistance to the citizens of St. Johns County and surrounding communities. The organization has expanded many of its programs over the years to meet the needs of this community while maintaining its heritage as a private not-for-profit healthcare provider. BayView provides a multi-level continuum of care, including in-patient and out-patient rehabilitation, twenty-four hour skilled nursing care, two assisted living facilities, home health care, enhanced social service support through transitional healthcare planning and charitable assistance. As healthcare shifts so does BayView, always looking to advance the services offered to increase quality of life for our residents and patients. Our mission is "to take care of the sick, the needy and the indigent citizens of St. Augustine and St. Johns County". Our annual charitable and community benefits amount to more than $6,000,000 a year. These benefits primarily represent charitable and uncompensated healthcare services and cost-savings through programs at the skilled nursing home, the two assisted living facilities and emergency assistance. For more information, visit www.bayviewhealthcare.org.
MOD® (Medication on Demand) is a registered trademark of Avancen MOD Corporation.
Contact
Avancen MOD Corporation
Samara Bay
800-607-1230
www.avancen.com
386-871-7708

Contact