KagelDesigns.com Offers Sophisticated T-Shirts and Mugs for All Your Christmas Presents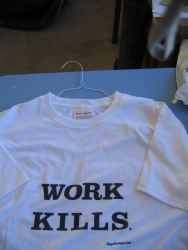 New York, NY, December 01, 2014 --(
PR.com
)-- "Each shirt and companion mug is a subtle understatement, just a few words which convey that the wearer is cultured, knowledgeable, or disillusioned," said Peter Kagel, owner and author of
http://www.KagelDesigns.com/
"I trademarked WORK KILLS™ after I got compliment after compliment from people who feel trapped in their dead end jobs. 'IT'S ALWAYS A PLEASURE TO MENTOR YOU' gives wearers a subtle leg up on their buddies. Or there's a straight 'MENTOR' for the wise old owl."
Kagel continued "There are political shirts on both sides of the spectrum; there's a 'HILLARY CLINTON'S BRAIN,' a 'BILL CLINTON'S BRAIN,' a JOHN McCAIN'S BRAIN,' a 'GEORGE W. BUSH'S BRAIN, a 'DEMOCRAT'S BRAIN and all of the BRAIN shirts and mugs are two sided. Then for those who don't like the Koch brothers, there's a "DON'T BE A KOCH SUCKER THINK FOR YOURSELF,' a 'REPUBLICAN'S BRAIN,' and the universal political shirts 'A POLITICIAN'S BRAIN,' and 'NO TOLERANCE FOR INTOLERANCE.'
"For men who want to make a joke out of their animal urges we have 'ANOTHER BLAMELESS TESTOSTERONE VICTIM' which is actually a unisex shirt.
"For left handers we offer 'LEFTIES RULE' and for the tennis players 'A TENNIS PLAYER'S BRAIN' and a 'FOOT FAULTING is for COWARDS and CHEATERS shirt.
"There's a 'SHE WHO MUST BE OBEYED' and a 'HOUSEWIFE'S BRAIN' shirt and mug. Along the domestic line there's are 'THERE'S NO SUCH THING AS A FUNCTIONAL FAMILY' and a 'MARRIAGE IS AN UNNATURAL SEX ACT' shirts.
"There's a 'LAWYER'S BRAIN,' a 'DOCTOR'S BRAIN,' a 'FOOTBALL PLAYER'S BRAIN,' a 'BASEBALL PLAYER'S BRAIN,' a 'GOLFER'S BRAIN,' a 'FISHERMAN'S BRAIN,' and also shirts and mugs for TEACHERS, STUDENTS, MECHANICS, GOURMETS, COMMUTERS, POLICEMEN, and a PSYCHIATRISTS."
Kagel concluded, "You can get your Christmas shopping done in one fell swoop and have a blast doing it because you know the person you give one of these shirts, sweatshirts or mugs to will fondly be thinking of you."
Media Contact:
Peter Kagel
E-mail: reminds@mindspring.com
Phone: (415) 346-9217
Contact
KagelDesigns.com
Peter Kagel
415-346-9217
KagelDesigns.com

Contact