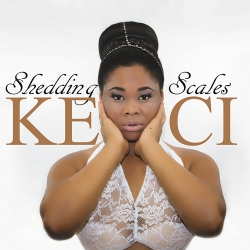 Atlanta, GA, November 28, 2014 --(
PR.com
)-- Keci, an Atlanta­-based singer, songwriter, rapper, and recording artist is getting ready to start touring following the recent release of her album, "Shedding Scales," that was released on October 21, 2014 through Joe Anthony Productions, an Independent Recording Label in Atlanta, GA.
Her and her team have started rehearsals covering material for several different sets catered to different venues (Concert Halls, Restaurants, Nightclubs, and other Music Venues), both locally, within the Atlanta­-metro area, and nationally, with performances in Florida, Tennessee, North Carolina, Arizona, Nevada, California, Oregon, and Washington state. Acoustic sets will be performed at coffee shops and restaurants as well as electronic and full band arrangements at larger venues.
The album's writing and recording process began in November of 2013 when Keci teamed up with Music Producer and Composer, Clarence Steele, who is also currently based in Atlanta and primarily works as a professional production sound mixer for Reality Television.
Steele has worked with Dolly Parton, Shaquille O'Neal, Freddie Freeman, 2 Chainz, Chef Sammy DeMarco, Director Frank Coraci, Christy Hemme, Taelor Hendrix, Brandy, Keyshia Cole, Michael Kittrell, "The Angry Ginger," T.I. & Tiny, Jon Taffer, Russell Davis, and Collective Soul, to name a few, and shows including Say Yes To The Dress: Atlanta, Double Divas, Bar Rescue, The Real Housewives of Atlanta, Married To Medicine, American Pickers, Beyond Scared Straight, Kim of Queens, The Game, Private Lives of Nashville Wives, and Chow Masters.
Recording sessions for the album started with Keci and Steele recording "That's Kool," which is a Hip­-Hop driven song featuring Keci's syncopated percussive rapping and in­-your-­face vocals with the chorus being inspired by "When Johnny Comes Marching Home Again," dating back to the American Civil War.
Several other strong music influences shine bright throughout the track sequence, such as with "Third Eye (feat. Jerry the Fisherman and Puff Nebula)," which delivers a chill, laid­-back vibe to it's listeners with vintage sounding guitars, strings sections, and vocal performance.
The album features 12 tracks with a blend of Hip­-Hop, R&B, Neo-­Soul, and Pop that starts with an album Intro, 10 Songs, and an Outro that tell a story from Keci's perspective of overcoming different struggles and situations and encouraging her listeners with hope and a positive message throughout.
Earlier in September of of this year, Steele traveled and worked in The Bahamas with the Atlanta Hawks Cheerleaders and Like The Boat, LLC, sound mixing a television series titled "All Eyes on Us" for Fox Sports South based on the Hawks Cheerleader's 2015 swimsuit calendar. During the filming of the show, Steele shared some of the album's songs with the Producer, Andrew Santamaria, in which he offered to feature Keci as a featured music artist on show. Four of the songs are featured in a total of three episodes that were produced and will air after every Atlanta Hawks home game throughout the entire season. The calendar was just recently released earlier this week and is available now.
The first Single, "Broken," is Impacting Urban AC radio starting in December, distributed and available through Play MPE. Besides traditional radio, Keci will be appearing on "The Gud Tymez Show," an internet radio show, Tuesday, December 11th, with hosts, "The Princess of All" and "Jay The Great" to debut the Single and discuss upcoming touring. The show airs in 17 markets and streams online worldwide. Guests that have appeared on the Gud Tymez Show include Jay-­Z, Freeway, Kanye West, Danity Kane, Day26, Dondria, Young Dro, Yung LA, 8Ball & MJG, Dawn Richard, Kimberly Cole, Trina, Dwele, Que, MiShon, Audio Push, Dru Hill, Kelly Rowland, Mark England, New Edition, Slam, Lisa Raye, Q Parker, Playboy Bunny's, Chingy, and many others.
Shedding Scales is available on iTunes, Amazon, Google Play, and music streaming services including Spotify, Rdio, Rhapsody, and Xbox Music. You can follow Keci on Twitter: @KeciOfficial, Facebook: @KeciMusicOfficial, YouTube: @KeciMusicOfficial, and through her website at KeciMusicOfficial.com.