AlgoTrades Partners with Interactive Brokers Canada to Offer Automated Trading of Futures & ETFs
AlgoTrades announces their API (Application Programming Interface) integration with Interactive Brokers to off Canadians in all provinces including British Columbia and the territories with automated future and ETF trading systems.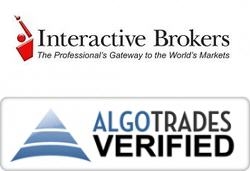 Toronto, Canada, December 08, 2014 --(
PR.com
)-- AlgoTrades extends its reach into Canada and has released a revolutionary automated investing system that enables investors to automate fully their investing account. Now investors can sit back, play golf, spend time with friends and family, or even go back to sleep, while the system does the work.
"Canadian investors simply do not have access to opportunities like this which American's and other countries do, especially residence of British Columbia. I am excited that AlgoTrades is the first fully automated, hands free futures trading system available in to BC residence," Said Chris Vermeulen Founder of AlgoTrades.
Manually entering trade orders and monitoring the computer is no longer needed. The AlgoTrades system automatically executes it's proven strategies and position management at the speed of light.
The direct connection between the AlgoTrades system and Interactive Brokers allow AlgoTrades to improve the company's presence in Canada.
The popularity of the AlgoTrades system has increased significantly as increasingly more investors rely less on mutual funds, financial advisors, professional fund managers, and explore more self-directed, rules-based trading opportunities.
AlgoTrades Founder Chris Vermeulen said, "It's scary how many of our clients have suffered losses of 50 percent or more in their portfolios in recent years. The feedback has been very positive as they express how they wish AlgoTrades was running in their account years ago. It truly is the future of trading and investing."
The investment strategy has been traded manually by the creator Chris Vermeulen for the past seven years and was converted into an automated investing system in 2013. It invests in the S&P 500 index though the use of futures and/ or exchange traded funds.
Most of the time the
automatic investing
system keeps the client's investment capital in cash. The high probability trading strategies used are geared toward minimizing market exposure and taking long/short positions only when a high probability of winning has been identified.
"This is an automated investing system that provides investors with an opportunity to invest alongside the founder, capitalizing on my entrepreneurial investment approach, trading strategies, money management skills and experience," stated Chris Vermeulen, AlgoTrades Founder.
The hybrid automated investing service charges a flat annual fee for access to the automated system, and the mnimum investment capital requirement starts at $15,000.
About Technical Traders Ltd.:
AlgoTrades Systems, which is a wholly owned subsidiary of Technical Traders Ltd., was established in 2008 and offers a range of investment and swing trade alert newsletters.
This quantitative trading system company, offers investors an unique opportunity to participate in a leading company in the business of quantitative investing, low frequency trading systems "LFT," for a 100% hands free investing experience.
Contact
AlgoTrades Systems
Chris Vermeulen
1-844-692-5468
www.AlgoTrades.net

Contact
Multimedia
Learn more about what AlgoTrades automated trading system can do for you.