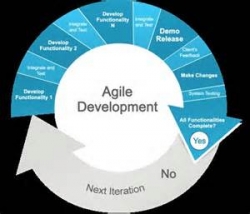 San Francisco, CA, December 09, 2014 --(
PR.com
)-- Distributed version control systems Git and Mercurial offer significant advantages over centralized version control systems such as open-source Apache™ Subversion® (SVN) or proprietary IBM ClearCase™. In short, Mercurial (Hg) and Git developers deliver products faster, benefit from greater workflow support, can easily work offline, and can develop multiple parallel features using forks or branches. Additionally, web-interface tools such as
RhodeCode Enterprise
™ that support both repository types simultaneously while offering multilevel permissioning set the stage for better collaborative development and code review practices. Code reviews are far easier to conduct, and overall source code management becomes transparent.
To learn more, Brian Butler and Thomas Hauschild will be teaming up to deliver a free technical webinar on Thursday, 11 December: Agile Development and the Advantages of Distributed Version Control Systems.
Click here
for further information and to register.
About RhodeCode
RhodeCode, Inc. provides the leading enterprise-grade code collaboration platform, enabling companies to build better software through secure teamwork, flexible workflows, and enhanced visibility; all within its customers' data centers or private clouds. The Company's flagship product, RhodeCode Enterprise, is used by market sector leaders in 80 countries. The company is located in San Francisco, CA, USA, and in Berlin, Germany. For more information:
https://rhodecode.com
.