Family Historian 6 Adds Internet Data Matching and Much More...
Calico Pie today announced the release of version 6 of Family Historian, the popular desktop genealogy software product.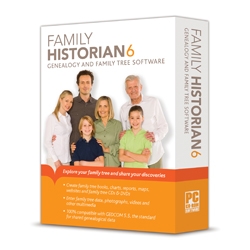 London, United Kingdom, December 10, 2014 --(
PR.com
)-- "Version 6 is a big step forward for Family Historian, both in terms of features and usability," says Simon Orde, managing director of Calico Pie. "We've teamed up with MyHeritage to add automatic internet data matching. This means that as you use the program, Family Historian automatically finds matching records on MyHeritage databases – from more than 6 billion records. We've also added a Web Search workspace window, and a new web clipping capability, to make it easy to transfer all the information you find into your project, with full source citations. We've added best-of-breed mapping in another new workspace window, the Map Window, so that users can easily see events marked on maps, and use the Time Slider to observe changes over time. The Media Window has been completely redesigned and now includes a new Media Link tool, to make linking people to faces in pictures much quicker and easier than before. There's a new Automatic Source Citation pane, to help with adding source citations. And there's much more. The program has been given a complete refresh, with a great new look and numerous usability improvements. It's a long list of important enhancements and great new features."
What's New
For full details and pictures of new features in version 6, please see
www.family-historian.co.uk/pr/whats-new-in-v6
.
Summary Of New & Improved Features
* Automatic Internet Data Matching, with on-screen 'hints' showing matches found
* New Web Clipping Capability for easy copying of facts and pictures from websites, using drag-and-drop
* New Web Search window and improved Internet Search tool
* New Map window, with Time Slider to view changes over time
* Redesigned and enhanced Media window, with new Media Link Tool to make easy to link people to faces in pictures
* New Automatic Source Citation Pane – to automatically add source citations to new and modified data
* Support for Extended Family 'Timeline' Facts – see all the key events in each person's life at a glance
* Now you can record Witnesses (non-principal participants in events, like bridesmaids at a wedding)
* Easier, faster data entry in an enhanced Property Box
* Users can now attach pictures to places (as well as notes, and longitude and latitude)
* The program now uses the Unicode standard to support language characters and accents from round the world
* A new configurable popup accent tool, makes entering accent characters easy
* New filtering options for record lists, make it much quicker and faster to find the record you want
* New powerful Find tool, lists all matches and can display each matching field in the Property Box
* New powerful Find and Replace tool
* Improved options for the graphical display of relationship information, with the * How Related tool
* More 'modeless' windows (windows that you don't have to close before you can do other tasks)
* Numerous improvements to make the program even easier and more enjoyable to use
* And much more...
Contact
Calico Pie Limited
Simon Orde
+44 (0)7804 378986
www.family-historian.co.uk

Contact