Calentic: A Phenomenal Calendar with a Great Search Feature. Now Live on Kickstarter.
Calentic is a modern online calendar that connects users to the right event.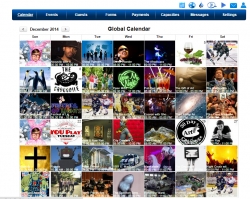 Seattle, WA, December 17, 2014 --(
PR.com
)-- Calentic is an online calendar platform that allows users to easily and accurately find events online using its global calendar.
The global calendar is a public platform available for anyone to access, search, and publish events on. Anyone can search the global calendar for events published by others. When searching the global calendar, users can select how they would like the search results to be presented. Users have the choice is between the "Dropdown" and "Calendar" display.
The "Dropdown" displays search results in a dropdown table below the search box. The "Calendar" on the other hand displays the search results directly on the calendar (within the calendar squares). Here is an example that illustrate how each search option can be used: Dave is on vacation looking for a water activity to go to. Dave goes to the global calendar, enters the keyword "water" in the search box, selects the "calendar" result option, and presses enter. Calentic matches the search to relevant "water" events in the database and displays the results directly on the calendar. Dave is now able to navigate through various events on various dates. If Dave wants to see more details about each event, the "dropdown" search option may be more appropriate as it displays results in the dropdown table along with each event's name, date and time, location, rating, and organizer.
Although most users have an idea of what they are searching for on the global calendar, some may just be interested in seeing if there is anything of interest. Calentic has a few features that appeal to such users:
- The hot page displays the hottest events of the day based on other users' ratings
- The recommendation page displays all events that were recommended by friends
- The slideshow feature (available on the global calendar by right clicking on the event) presents a slideshow of various events of the selected day.
Calentic's search feature helps users easily and accurately find the desired calendars, events, and guests.
For additional information or exclusive access to our site, please contact us at 206-486-6066 or email us at support@calentickickstarter.com.
About Calentic
Calentic is a modern online event calendar service that aims to improve the user experience by introducing never before seen features. It gives its users the unique ability to attach images and videos to events and share them with family, friends, or with the entire world. It offers an abundance of features that connect users together and helps them take advantage of all the fun events around them. Calentic is the next big thing. Please check out our Facebook, Twitter, and YouTube pages for more information about our services.
goo.gl/3JE4s9
Contact
Calentic
Floyd Ngono
206-486-6066
www.calentickickstarter.com

Contact