LEAP Foundation DC Sending Gifts and Hope to the Youth of D.C.
On Wednesday, December 17th, LEAP Foundation DC again supported Congresswoman Eleanor Holmes Norton's Annual Capitol Hill Children's Christmas Party for disadvantaged D.C. youth.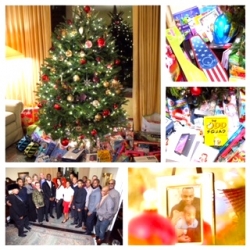 Washington, DC, December 22, 2014 --(
PR.com
)-- On Saturday, December 13th, LEAP Foundation DC, led by Chairman Dr. Clayton G. Lawrence, held its annual Christmas party and toy drive. Each year, the Foundation hosts its toy drive to support Congresswoman Eleanor Holmes Norton's Capitol Hill Children's Christmas Party, which collects and distributes gifts to children in the greater D.C. area that would not otherwise experience Christmas. Approximately 250 children received gifts from these efforts, making this the most successful year for the event to date.
This year's event marked the Congresswoman's 24th year of working to provide Christmas presents to disadvantaged children in Washington D.C. Working in conjunction with the Uniting People with Opportunities (UPO) Inspire Foundation, and with the help of LEAP Foundation DC, the Congresswoman has been able to spread hope and holiday cheer to thousands of children and families throughout the years. The UPO Inspire Foundation opens the donation process to its members and the community in early October and collects donations through the end of November. LEAP Foundation DC then brings its employees and other community members together to host its own drive to make one last push for donations prior to the Congresswoman's event.
"When we first had the opportunity to contribute to this cause, we immediately knew that it would be one that we would want to be involved with year after year," said LEAP Foundation DC Chairman, Dr. Lawrence. "The holidays are meant to be a magical and memorable time for children, and for so many, that is not the reality. Our goal each year is to reach out to the children and families that need it most and do all that we can to make the holidays a little bit brighter."
The families that are selected for this program each year not only receive toys, but also receive clothing, gift cards, computers/educational devices, and other much needed items. All of the families and items given to the children this year were blessed by Reverend Dr. George E. Holmes, who currently serves as a member of President Barack Obama's National African-American Clergy Leadership Working Group and as Chaplain of the District of Columbia.
An overwhelming increase in donations and support from two other key groups, the Nando Group Corporation, as well as the Keys for the Homeless Organization, contributed to the overall success of the event. "With so many different organizations and influential leaders working together to make this event successful each year, we only continue to see our efforts strengthened," Lawrence said. "LEAP Foundation DC will continue to remain committed to supporting Congresswoman Holmes Norton as she continues to work towards improving the lives of all D.C. citizens. We are honored to support this incredible event and more than look forward to seeing it continue to grow in ways that we can't even imagine."
To learn more about the LEAP Foundation DC, visit
leapfoundationdc.org
and for a 5-minute highlights video of this occasion, please visit
http://vimeo.com/114946932
.
Contact
LEAP Foundation DC
Dr. Clayton Lawrence
(202) 349-4089
www.leapfoundationdc.org

Contact