The Sky's No Limit: DirectBuy Owner Bruce Harvey Takes Flight for Charity
Owner of the DirectBuy of Southern Maryland donates his plane and flying skills to the medical air transport of patients and their loved ones.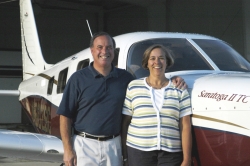 Latham, MD, November 13, 2007 --(
PR.com
)-- Like many DirectBuy franchisees, Bruce Harvey is always giving back to his community, whether it's by working with families at
DirectBuy of Southern Maryland
, which he co-owns with his wife, Barb, and Robert and Melinda Wagner; or holding public office in his native Michigan. Now you can find him showing people the benefits of DirectBuy membership in another location – DirectBuy of Woodbridge, Va., which he and Barb recently opened.
But, depending on the day, you might have to look in a different place to find Harvey helping families – up in the sky, cruising among the clouds in his plane. For the past two years, he has been active in medical air transport for patients in need and their loved ones. Registered with two charity flight organizations, Wings of Mercy in Michigan and Angel Flight Mid-Atlantic in Virginia, Harvey donates his plane, his fuel, his skills, and his time to provide this free service to people when they need it most.
Although flying patients – sometimes with little advance notice – to and from points in the Midwest and on the East Coast can be difficult to fit around opening a brand-new DirectBuy franchise, Harvey can't fathom a better way to use his time and his plane, a twin-engine Piper Seneca V.
"I call it a 'feel-good flight,' because it makes everyone feel good," he says. "The people are always very thankful to you."
Angel Flight Mid-Atlantic Coordinator Mary Jane Sablan handles organizing charity flight requests into a regular broadcast emailed to Harvey and the other 1,550 volunteer pilots spread across the program's 10-state region. Although the qualification process requires patients to request flights at least five days in advance, Sablan says that pilots are often needed immediately in urgent cases.
"In this region, specifically, we have a great deal of burn patients that we fly to Shriners Hospital in Cincinnati or Boston," says Sablan. "We have some patients with cerebral palsy. With our location, we also transport many patients to the National Institute of Health and to Duke University for brain tumor treatments. We take them to a great deal of big facilities, as well as private physicians."
As a pilot, Harvey gets an up-close look at the positive impact the programs make for patients who wouldn't be able to access the medical treatment they need otherwise. He remembers flying one girl, who was about 12 years old, from Michigan to Columbus, Ohio, for treatment of a degenerative disease. Already, the girl had lost her hearing, and her sight was also fading.
"Sometimes it's really sad," says Harvey. "But that little girl is the one who sticks in my mind. She was such a cute girl, and her attitude was awesome. She was so happy-go-lucky."
Even when he's away from his businesses on charity flights, Harvey has still found ways to assist DirectBuy members and their families. Once, Harvey discovered that a patient's mother he was flying to the Mayo Clinic in Rochester, Minn., was a DirectBuy member. And Mary Jane Sablan of Angel Flight Mid-Atlantic is a satisfied member of DirectBuy of Hampton Roads, Va. Whether he's in his DirectBuy franchises or in his Piper Seneca V, Harvey makes helping families his top priority.
"I feel blessed to be in the position I am in by having a plane and to have a way to give back," says Harvey. "I try to give back to the community, to give back to those less fortunate."
About DirectBuy
For more than 35 years, DirectBuy has been showing thousands of consumers unparalleled ways to save as they shop for virtually everything they need for in and around their homes - from
furniture
,
carpet
and flooring, to kitchen and bath cabinets, appliances and much, much more.
DirectBuy enables members to purchase most every product offering from several hundred manufacturers at over 140 showrooms across North America. To request a "Free Insider's Guide to Buying Direct" and a Visitor's Pass to learn more about the superior value and benefits of a DirectBuy membership, visit
www.directbuy.com
or
www.directbuycares.com
###
Contact
DirectBuy
Sara Shragal
219-736-1100
http://www.directbuy.com/

Contact