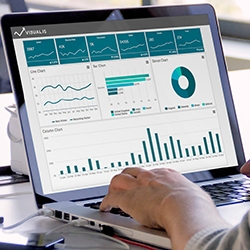 Quebec, Canada, January 06, 2015 --(
PR.com
)-- Today, Visual.is announced the launch of their visualization tool, Visual.is, which is designed for any business person who wants to create professional-quality graphics and visualizations easily and quickly. Visitors are invited to try out the cloud-based application at www.visual.is.
Unlike other visualization apps on the market, Visual.is is targeted at business users, not design or graphics experts, yet is focused on more than just data presentation. Visual.is helps the user create truly compelling stories with their data using a variety of professional visualization templates and color palettes.
"Nobody who works with business information is expected to be an expert in design, but beautiful quality reports generate a great response from customers and bosses," said Visual.is founder, Lucas Sanroma. "So, I started to think about developing a low-cost product which could help professionals and companies generate visualizations with high-quality graphics without any technical knowledge. That's when Visual.is was born."
Visual.is delivers a number of benefits to users:
· Users can create beautiful, professional-looking charts, dashboards, reports and visualizations. The software includes professionally-designed, harmonized color palettes, and is developed by experienced designers to deliver beautiful information design.
· The software is very easy to use, with no installation or training required, and the average business user takes just minutes to start creating high-quality graphics and visualizations. No more struggling with spreadsheet charting tools.
· Visual.is saves time and money, since businesses don't have to hire professional designers to create quality data presentations or reports. Users can get started for free, host their visualizations in the cloud, share with colleagues or customers with a single click, and if needed sign up for the affordable, pay-as-you-go monthly subscription.
Better data visualization can provide a myriad of business benefits. For example, Harvard Business Review reported on a Booz and Company study which found that having an interactive data visualization graphic made viewers stay longer on the website, interact more with the data, and come back to it more frequently.
Beautifully designed data is not only nicer to look at. It can make a positive difference in career and business outcome, by making decisions easier, communication more effective, and results more impactful.
Visitors are encouraged to try out Visual.is - in just a few minutes, they can create their first professional-quality data presentation. To start producing beautiful visualizations for business dashboards and presentations, interested users can sign up at www.visual.is.
About Visual.is
Headquartered in Quebec, Canada, Visual.is was founded by Lucas Sanroma to help busy business professionals easily create beautiful data visualizations that help them further their businesses and their careers. Visual.is delivers professional-quality dashboards, reports, and data presentations in an easy-to-use, affordable way.