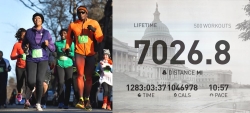 Washington, DC, January 05, 2015 --(
PR.com
)-- Lawrence Executive Alliance of Professionals (LEAP), LLC, and its non-profit partner organization, LEAP Foundation DC, both led by Dr. Clayton G. Lawrence, wished the citizens of Washington D.C. a happy new year by reiterating the organizations' commitments to helping ensure health and wellness in the greater D.C. area and abroad.
Dr. Clayton Lawrence, a decorated, veteran, military physician, and a highly regarded fitness expert, stated, "Many of us will make New Year's resolutions to achieve better fitness and overall health. As an emergency medicine physician and fitness proponent, I recognize that the best way to encourage people is through leadership, and that leadership starts by setting an example. I want to encourage citizens who have committed themselves to better health in 2015."
Lawrence has already been actively leading by example, as he has run marathons for charitable causes on behalf of his company and foundation since 2011. 2000 miles were run in 2014 alone, and the 7000 running mile marker was heralded as Dr. Lawrence celebrated New Year's Day by participating in the Fresh Start 5K, alongside new D.C. Mayor, Muriel Bowser.
Dr. Lawrence spoke regarding Mayor Bowser's Inauguration, following their participation in the Fresh Start 5K, stating, "On behalf of the medical community, I congratulate Mayor Muriel Bowser. She has shown that she felt it was an important symbol to put fitness first by commencing her inaugural activities with a 5K run on New Year's Day. Such examples of leadership are vital to reinforce the importance of taking intentional steps towards more healthy and proactive lifestyles in our community, and myself, as well as LEAP, LLC, and LEAP Foundation DC, could not be more committed to supporting this new, fresh start for D.C."
Dr. Lawrence will continue to run for charities in 2015. His first marathon will be January 25th in Miami Beach, Florida. This marathon will benefit the Kids Run Miami charity. Kids Run Miami is a privately funded health initiative that provides middle school students throughout the Miami-Dade county area with a running program that gives these students an opportunity to run their first marathon, and ultimately, "promotes a fit and healthy lifestyle while teaching children to create and fulfill goals." To learn more, visit http://www.themiamimarathon.com/race/kids-run-miami/.
Dr. Lawrence could not be more optimistic and excited about what lies ahead for the citizens of Washington D.C., as a new era of leadership begins and as he and his companies prepare for their most active years yet. "I am so passionate about this city and seeing this city grow and thrive in ways that have not yet been achieved. It is an honor to have had the opportunity to share and exchange ideas with Mayor Bowser and I am confident that 2015 will be a year of truly positive change for D.C."
Learn more about Dr. Lawrence, LEAP, LLC, and LEAP Foundation D.C., by following
twitter.com/runclaytonrun
, and by visiting
www.leap4staffing.com
and
www.leapfoundationdc.org
.