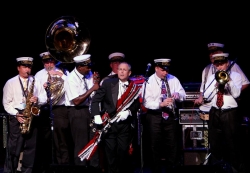 Stanhope, NJ, January 13, 2015 --(
PR.com
)-- The Storyville Stompers have been entertaining audiences with their Traditional Jazz and Dixieland sound since 1981 with performances such as New Orleans' own Jazz and Heritage, French Quarter and Satchmo Festivals, Mardi Gras events that include the legendary Phunny Phorty Phellows' Twelfth Night Streetcar Ride and world-famous Bacchus and Orpheus parades, as well as sporting events like the Rose Bowl and the New Orleans Saints football games. They have also performed at hundreds of prestigious events across the globe, one of their favorites being the Washington Mardi Gras Ball, which they have played annually for the past 30 years and for which attendance has been described as a "once in a lifetime opportunity…not something you put your name in a hat for…not something you seek…or something you ask for, but something that is bestowed upon you."
The Stanhope House is located at 45 Main Street in Stanhope, New Jersey, and it is where the festivities will begin when The Storyville Stompers and their Grand Master lead the way into the venue to start their show with a "Second Line" parade. This 1794 former residence, general store, post office and boarding house is now described as a "crazy cool" venue and, as another sponsor of WNTI, is the perfect setting for a Mardi Gras celebration. Its doors will open for dinner at 4:30 p.m. and the show will start at 6:00 p.m. as the band leads the "moving party" into the venue.
PocoNotes was co-founded by Dolores and Pat, two "children of the 60's" whose reminder to continue their generation's quest to make the world a kinder place came about on September 11th as Pat was making his way out of Tower 2 of the World Trade Center for what they now know was the last time. They first encountered The Storyville Stompers in 2006 when Hurricane Katrina inspired their musical tribute to the countless New Orleans musicians whose livelihoods had been devastated, and they learned that it was New Orleans' brass bands that needed the most support to keep their unique "sound" alive during some of their city's darkest days.
PocoNotes met Melanie Thiel, WNTI's "Mornings with Melanie" DJ, as they were planning their second season of music in 2007. It was Mel's support of those who are involved in keeping music 'alive and well' that launched their relationship and prompted PocoNotes' sponsorship of WNTI, but it was their volunteering together for Katrina Relief in New Orleans with Centenary College and Drew University that forged a strong bond and friendship.
As local relief efforts were refocused toward victims of Superstorm Sandy, PocoNotes and WNTI seized an opportunity in 2014 to bring a little New Orleans into the area as a means of connecting two communities in similar need, with the kind-hearted volunteers who served in both areas as the common denominator. Since their Mardi Gras event was so well-received by artists and audience alike, they decided to do it again.
Tickets to this special event are "Keepsake" Wrist Bands and Second Line Hankies that are available in advance for $25 through WNTI at www.WNTI.org or (908) 979-4355 Ext. 1 or through PocoNotes at www.PocoNotes.com or (888) 800-POCO (7626), with any remaining tickets to be sold at the door for $30.
All ticket sales will help to ensure that great music continues to live at WNTI for a long time to come.