Big Data & Predictive Analytics Book Published
Big Data analytics and Cloud Computing are headlining the current IT initiatives. The information pool that is generated worldwide doubles every 20 month. Big Data refers to dataset sizes that are beyond the ability of typical RDBMS systems. What the industry needs are reference materials that highlight the importance of the data-flow and elaborate on the tools and techniques available to extract value in a timely fashion. This book addresses theses issues and provides the necessary guidance.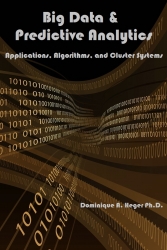 Austin, TX, January 13, 2015 --(
PR.com
)-- Big Data & Predictive Analytics (ISBN: 978-1-61422-951-3)
Big Data refers to dataset sizes that are beyond the capabilities of typical database (RDBMS) tools to capture, store, manage, and analyze the data assets. These days, data may be generated by business, research, social, or industrial processes, videos, sensors or cameras and the data may represent structured, semi-structured, and/or unstructured data types. Many applications have shown that (real-time) predictive analytics does provide great business benefits. What is required though are scalable Big Data environments that are designed, implemented, maintained, and optimized appropriately. Further, the community needs people, models, algorithms, and procedures to collect, preprocess, cleanse, analyze, and deceiver/mine the massive data sets. Most of these algorithms have their roots in various mathematical fields such as statistics, systems theory, machine learning, pattern recognition, or artificial intelligence. This book allows the reader to fully understand the Big Data processing lifecycle while being introduced to the most prevalent machine learning methods and algorithms used for predictive analytics projects. Further, the book elaborates on the major Apache Big Data projects that are available today for real-time predictive analytics environments and elaborates on the essence of truly understanding the actual data flow. The Big Data projects are highlighted from an architectural, functional, performance, as well as scalability perspective.
About the Author
Dr. Dominique Heger has over 30 years of IT experience, focusing on systems modeling, performance evaluation, and capacity planning. Further, he specializes in optimizing Big Data processing environments, Predictive Analytics, as well as Machine Learning related projects. He is the owner/founder of DHTechnologies (www.dhtusa.com), an IT performance consulting firm, as well as Data Nubes (www.datanubes.com), a Big Data and Predictive Analytics company. Both companies are headquartered in Texas. He has successfully conducted large-scale IT and Big Data projects for companies such as Boeing, AT&T, Wachovia, LLNL, NERSC, Dell, QLogic, Wells Fargo, EOG Research, ESPN, Oceaneering and CERN. Prior to DHT and Data Nubes, Dominique worked for IBM, Hewlett-Packard (at CERN Geneva), and Unisys. Over the years, he has published over 30 papers and books with IEEE, CMG, or the IBM Press. He holds an MBA/MIS from Maryville University St. Louis and a Ph.D. in Information Systems from NSU, Florida. Next to his work in computer science, he very much enjoys spending time with his family, training horses in the Texas Hill Country and team roping.
Please contact DHTechnologies for more information on the book.
Contact
DHTechnologies (DHT)
Dominique Heger
512-773-1938
www.dhtusa.com
Skype: dhtusa
Twitter: @dhtusa

Contact