Sentio Healthcare Properties Announces the $18.90 Million Acquisition of The Gables of Hudson in Ohio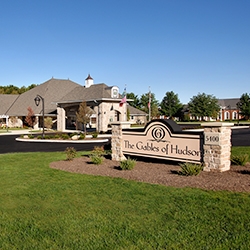 Orlando, FL, January 16, 2015 --(
PR.com
)--
Sentio Healthcare Properties
, Inc., ("Sentio" or the "REIT"), a real estate investment trust focused on healthcare-related real estate, announced today the $18.90 million purchase of The Gables of Hudson, a 112-unit assisted living and memory care community in Hudson, Ohio. The Gables of Hudson opened in late 2013.
Gables Management Company, the current manager of the community, will continue to operate the property under the new ownership agreement with Sentio. This represents a new operator relationship for the REIT.
This acquisition marks an additional investment under Sentio's investment agreement with an affiliate of leading global investment firm
Kohlberg Kravis Roberts & Co. L.P.
(together with its affiliates "KKR"). As a part of the agreement, KKR committed to provide an initial $150 million of convertible preferred equity to Sentio over a two to three year period.
John Mark Ramsey, Sentio's President and CEO, described the transaction this way, "We are pleased to add this stand-out asset to the REIT. It is our belief that this recently constructed community and the Gables Management team are well positioned to provide a high-level of care to the residents. We look forward to expanding the relationship with Gables Management going forward."
About Sentio Healthcare Properties
Sentio Healthcare Properties,
Inc. is a public, non-listed, real estate investment trust, which invests exclusively in healthcare-related real estate, and is committed to delivering strong and reliable returns to investors. The Company features a diversified portfolio of senior housing and medical properties throughout the United States. Their portfolio offers diversity in many areas including asset type, geographic location, operators and payor mix. The REIT is led by a team of healthcare real estate industry veterans at Sentio Investments, LLC, the REIT's advisor. Their core industry objective is to tailor a capital structure that complements the operating platform of developers and owner/operators, recognizing that each is unique in its approach and service to the healthcare industry.
Forward-Looking Statements and Securities Act Legends
Certain statements in this release containing the words "believes," "expects," and similar words, are "forward-looking statements" within the meaning of the Private Securities Litigation Reform Act of 1995. Forward-looking statements involve risks and uncertainties that may cause actual results to differ materially from results expressed or implied by forward-looking statements. Such factors include, among others: economic and business conditions, nationally and in regions in which Sentio will operate, relating to healthcare-related real estate; the availability of suitable investments at the relevant time; and whether all conditions to any drawdown of the committed funding can be satisfied at the relevant time. Given these uncertainties, you are cautioned not to place undue reliance on such forward-looking statements. Sentio disclaims any obligation to update any of the forward-looking statements contained herein to reflect future events or developments.
The securities referenced in this release have not been registered under the Securities Act of 1933, as amended, and may not be offered or sold in the United States absent registration or an applicable exemption from registration requirements. This release is not an offer to sell, or a solicitation of an offer to buy, any security.
Media Contact:
Martha R. Burn, 407-999-7679, ext. 113
mburn@sentioinvestments.com
Contact
Sentio Healthcare Properties
Martha Burn
(407) 999-7679
www.sentiohealthcareproperties.com

Contact