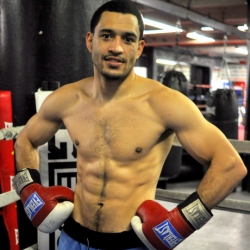 New York, NY, January 16, 2015 --(
PR.com
)-- Jonathan "El Conquistador" Cepeda's first fight in 2015 is all set. Jonathan Cepeda (15-1, 13KO's) will look to improve his record and his 87% knockout rating when he faces fellow middleweight Jonathan Reid (35-17, 19 KO's) on Tuesday, January 27th as part of the Tuesday Night Carolinas Fight Night at Club Label in Charlotte, NC.
This will be Cepeda's fourth fight in the past 6 months after a taking a 2 year hiatus after his one and only loss to Lamar Russ in October of 2012. "I learned a lot from that loss and during my 2 year break. Not only do I have a great team around me now, I've also developed the mental toughness and maturity needed to become a champion," said Cepeda.
Cepeda's career was reactivated when he was picked up by Kran Sports and Entertainment Management (www.kransports.com) back in the spring of 2014. "Prior to signing Jonathan we watched a lot of footage of his past fights and fell in love with what we saw. He's got a heavy hand that can knock anyone down at any time and that's exciting to watch," said Greg Adams, General Partner at Kran Sports.