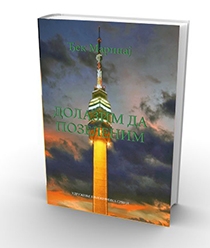 Dallas, TX, January 27, 2015 --(
PR.com
)-- undus Artium Press announces the publication of the new Serbian book, "I Come to Leaf Out," written by Gjekë Marinaj.
Mundus Artium Press announces the publication of the new Serbian book, "I Come to Leaf Out," written by Gjekë Marinaj and published by the Association of Writers of Serbia. Originally written in Albanian, this book is a collection of work that includes a selection of poems from Marinaj's previously published poetry books in Albanian, has been translated into Serbian by Pjetër Dreshaj, and edited by acclaimed Serbian author and journalist, Jovan Janjić.
Just published in Belgrade, Serbia, "I Come to Leaf Out," is a book of poetry which addresses the importance of embracing human diversity. "The diversity and authenticity of Marinaj's poetic manuscript bring poetry to a new level," says Ljubomir Kovacevic . "His poetry speaks to the modern world and anyone in our time should read this. Gjekë Marinaj's poetry collection within demonstrates the maturity and originality of his craft. The world undoubtedly needs his angst."
Two introductory essays are included in this work as a prolog and epilogue. The first essay, Song as a Center of the Universe, is written by Milica Jeftimijeviç Liliç, the current vice president of the Association of Writers of Serbia. The second essay, The Anxiety and Delight of Gjekë Marinaj, is written by Ljubomir Kovaceviç.
Dr. Marinaj dedicates "I Come to Leaf Out" to his Serbian friends: "This book is dedicated to Petar Jelic and my friends in Serbia who were by my side and helped me during the most difficult time in my life."
The ISBN number for the hardcover edition of the book is ISBN 978-86-81537-49-7.
Praise for Gjekë Marinaj (Taken from the Essays in "I Come to Leaf Out")
"Gjekë Marinaj as a poet certainly speaks to us all, and takes responsibility for the universal misdeeds of the modern era. He sheds light on hypocrisy, cruelty, and the attack on the universal truth and order of things." -- Milica Jeftimijevic Lilic, Vice President of the Association of Writers of Serbia.
"Last year, in a conversation with Tariq Ali (about Marinaj's poetry), I asked him whether poetry still has such power. They are still reciting poetry at Tahrir Square," he said. "Gjeke Marinaj is one of the few poets—and there are only a few —whose words come alive beyond print." - Vladimir Tasic.
Praise for Other Works by Gjekë Marinaj
"The poet Gjekë Marinaj has achieved impressive versatility in his creative work. Effortlessly, he extends his reach from poetry to journalism and vice versa. Posing intelligent, insightful questions to the icons of Albanian and international art, literature, politics and sports, he offers his Albanian readers a book of interviews that is as interesting as it is meaningful." - Arben Çokaj, Illyria
"In the troubled and turbulent times we inhabit, it is rare to find a voice of stillness - an anchor to which we can attach our trust. With the world changing every day, and not always for better, we require the safe harbor of sanity and soundness. In the poignant poetry of Gjekë Marinaj, we do find such a sanctuary." - Wm. L. Dubnov, Phoenix Review
"… 'a first-rate poet' … Gjekë Marinaj understands the illuminating power of the written word in a nation that wishes to be free. His commitment to writing was born out of a harrowing personal tale of dissent and retribution." - Brent Flynn, The Dallas Morning News
About the Author
Gjekë Marinaj is an award-winning Albanian-American writer, poet, literary critic, and translator. He is the founder of Protonism Theory which advocates positive thinking and peace through literary analysis and criticism. His other books include Do Not Depart From Me, Infinite, Prayer on the Eighth Day of the Week, The Other Side of the Mirror, Some Things Can't Be Kept Secret, and Protonism: Theory into Practice.
The QNK, part of the Ministry of Tourism, Cultural Affairs, Youth and Sports of Albania, awarded Gjekë Marinaj the Pjetër Arbnori Award for literature in 2008. He resides in the United States and is the Director of the Mundus Artium Press. He also teaches English and Communication at Richland College in Dallas, Texas. His website is
www.marinaj.info
.
Contact:
Mundus Artium Press