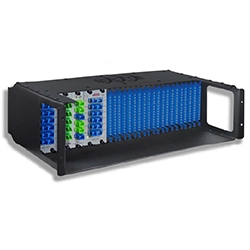 Mesa, AZ, February 03, 2015 --(
PR.com
)-- PCT International, Inc., a world leader in last mile products for the broadband industry, today announced the release of a new fiber management product designed to improve density and ease of fiber access enabling customers to scale operations along with growing subscriber revenues.
The innovative Ultra High Density Fiber Management System, PCT-UHD-FCRM, enables service providers to maximize equipment room space by allowing for installation of up to 32 fiber optic modules in a 3RU chassis, more than doubling the module density of legacy LGX systems.
The new fiber management system also provides support for legacy LGX modules, half-width LGX modules, and the new ultra high density modules without the need for separate adapter panels or accessories. PCT-UHD-FCRM is the ideal solution to overcome the space constraints that most of the advanced digital services providers are facing with installing more fiber in existing facilities.
"Saving space and simplifying deployment of more services over the existing infrastructure is a critical factor in fiber design. The new PCT-UHD-FCRM Ultra High Density Management System delivers not only an innovative high density option for the industry, but sets the standard for flexibility, scalability and costs savings," said Humberto Valdes, VP of Product Management. "Our new Ultra High Density fiber management system makes it possible for headends, central offices and data centers to resolve current space constraints and expand their services by combining their legacy LGX modules with the new ultra high density modules in the same platform."
PCT's UHD-FCRM Ultra High Density fiber management system offers:
- Modular and space maximizing chassis solution
- Housing capacity of up to 32 ultra high density modules allows for up to 448 ports in a 3RU chassis
- Triple mount (legacy LGX, slim LGX and Ultra High Density modules)
- Front panel access
- Ideally suited for headends, hubs, data centers and OSP cabinets
- Available with DWDM and CWDM filters, multiplexers and interleavers
- Optical splitter modules are also available for Fiber-to-the-Home (FTTH)
For more information about PCT-UHD-FCRM Ultra High Density fiber management chassis and more fiber optical products, contact Humberto Valdes (480.813.0925 or hvaldes@pctintl.com) or visit PCT International's website: pctinternational.com
About PCT International, Inc.
Established in 1997, PCT International, Inc. provides superior last-mile and premise products and solutions for broadband communications networks to customers in more than 60 countries. The company leverages innovative engineering, four state-of-the-art manufacturing facilities and a highly-efficient distribution network to ensure quality, service and pricing benefits for broadband, CATV, satellite and structured wiring customers. PCT International's "Hardened Drop" approach is a total solution from the tap to the customer premise equipment (including coaxial cable, f-type connectors, digital splitters, digital amplifiers, and optics) designed to reduce costs for operators and enhance satisfaction for subscribers. PCT International and its holding company, Andes Industries, Inc., are headquartered in Mesa, Arizona. For more information, please visit www.pctinternational.com.