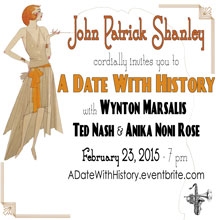 New York, NY, February 09, 2015 --(
PR.com
)-- John Patrick Shanley and Nylon Fusion Theatre Company will host a gala celebration honoring Drama Desk and Obie Award-winning, Tony Award-nominated director, actor, playwright, and instructor Austin Pendleton along with Obie Award and Tony Award-winner Anika Noni Rose. Jason Kravits to emcee. This event will be held at 4 W. 43rd St, NY, NY, Monday, February 23rd, 2015 at 7:00pm.
The evening will be held to benefit Nylon Fusion Theatre Company and to celebrate these theatrical figures and their work in the community. Nylon Fusion Theatre will award the "Nylon Light of the Community" Award to Austin Pendleton and Anika Noni Rose for their commitment to theatre. As parts of our community of collaborators they dare to stretch the fabric of social, political, and cultural expression. The event will be attended by a host of notable guests and will include performances by Wynton Marsalis, Ted Nash, Anika Noni Rose, and more. For ticketing and additional information, go to
nylonfusioncollective.org
"Nylon Fusion Theatre Company is exactly the right kind of theatre for New York City now," says John Patrick Shanley, an Advisory Board member. "It is young, multicultural, fearless. It provides an open door, inviting unrecognized talent on to the stage, providing entry, excitement, recklessness, candor, and comedy, in a joyous atmosphere. There are new actors, directors, and playwrights in abundance. You will discover artists here. You will experience the rush of seeing them first. That's what New York is all about. Discovery!"
Born in 1940, in Warren Ohio, Austin Pendleton began his career at the Williamstown Theatre Festival. In 1967, Pendleton was the first to introduce us to Motel in his performance of the Original Broadway production of Fiddler on the Roof. His performance in The Last Sweet Days of Isaac earned him the 1970 Drama Desk Award for Outstanding Performance. He has appeared in The Diary of Anne Frank, Grand Hotel, Goodtime Charley, and The Little Foxes, which he went on to direct 14 years later with Elizabeth Taylor and Maureen Stapleton and garnered him a Tony Award-nomination. He also acted in The Sunset Limited, Up from Paradise, and Bertolt Brecht's Mother Courage and Her Children. Austin Pendleton directed Nylon Fusion's award-winning production of Luft Gangster by Lowell Byers in August 2013. Additional directing credits include the 2009 production of Uncle Vanya at the Classic Stage Company, Spoils of War, The Runner Stumbles, The Size of the World, Bus Stop, and Golden Age at the Philadelphia Theatre Company. In 2012, he directed a production of Detroit at the National Theatre in London, England. He has written the plays Uncle Bob, Booth, and Orson's Shadow. Pendleton is a current teacher at HB Studios, and The New School. He is an ensemble member of the Steppenwolf Theatre in Chicago. Pendleton served as Artistic Director for Circle Repertory Company with associate artistic director Lynne Thigpen.
Anika Noni Rose, born in Bloomfield, Connecticut is an actress and singer known for her Tony Award-winning performance in the Broadway production of Caroline, or Change in 2004. Prior to winning a Tony Award, she received in 2001 an OBIE Award for her role in Eli's Comin'. In 2014, Rose was nominated for a Tony Award for her portrayal of Beneatha Younger in the Broadway revival of A Raisin in the Sun. She was named a Disney Legend in 2011.
Anika Noni Rose and Austin Pendleton will be the first honorees to receive Nylon Fusion Theatre Company's Light of the Community awards. Company member and breast cancer survivor and advocate Tatyana Kot will also receive special recognition. Previous benefits have been co-produced with Paul Haggis and John Patrick Shanley.
For information about VIP ticketing and donations toward the 2015 gala, please contact Ivette Dumeng at NylonFusion@gmail.com.
Nylon Fusion Theatre Company
Founded in 2007 and born of a fusion of New York and London creativity, the theatre company is committed to giving voice and perspective to established and emerging artists. We develop and produce plays that explore political, social, and cultural awareness.
Nylon Fusion receives generous year-round support from patrons like you!
For more information visit www.nylonfusioncollective.org and follow @NylonFusion on Twitter.