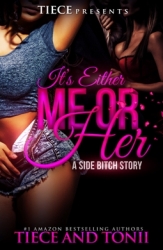 Augusta, GA, February 09, 2015 --(
PR.com
)-- National Bestseller Authors, Tiece and Tonii have woven together an intriguing story line that will not only entertain you, but that will also hold you until the last written word in the novel. According to the 5 star reviews that are already coming in, this duo has managed to capture the audience's attention with this mind blowing read.
Synopsis
Rayne is getting the chance of a lifetime to live out her dream as a newly signed R&B singer at A-Town Productions. She is beyond ecstatic to be given the opportunity of plans to sing her heart out and tour the world. What she doesn't plan on is falling in love with Chase Montgomery, one of the hottest producers in Atlanta, GA. Upon meeting him, there is an instant attraction between the two. She can see herself being with someone of his caliber. He's sexy, rich, humble and very supportive of her, but there is one problem. He already has a live-in girlfriend.
Chase has been in a relationship with Brooke for five years. However, they're not exactly what one would call the couple of the year. The only thing that's keeping them together is the love they have for their son. However, Chase wants out, but Brooke refuses to let go. Brooke is disheartened to learn that Rayne has all of her man's attention, but she's not going down without a fight.
In the midst of all the drama, secrets are revealed that are destined to shatter everything surrounding them as Chase is left in the crossfire of Brooke's wrath. Will Rayne stand by the man of her dreams or will she have no choice, but to walk away from everything that she's worked so hard to achieve?
This is a deceitful tale with a jaw dropping ending that is sure to leave you speechless. Find out what happens when two women are both in a race for one man's heart in, "It's Either Me Or Her."
To get in on this amazingly written novel you can purchase it for only .99 or Free on Kindle Unlimited through Amazon.com Or you can click on the liink provided below.
http://www.amazon.com/Its-Either-Me-Her-Bitch-ebook/dp/B00TBDP3LS/ref=sr_1_1?s=digital-text&ie=UTF8&qid=1423358551&sr=1-1&keywords=it%27s+either+me+or+her