Boone and Watauga County Team Up with Rain Water Solutions for Their Annual Rain Barrel Sale
Protect our water resources by reusing water around the home and landscape.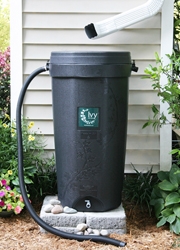 Boone, NC, February 12, 2015 --(
PR.com
)-- The high country has had good precipitation amounts this past year, yet most still take water for granted. As happened a few years ago, supplies can be altered at the "drop of a hat" during drought conditions. According to Wendy Patoprsty, Extension Agent for Watauga County, "rainwater in the high country represents a high quality source of water available to us, there is no reason we should let it flow away without using it." It can take a very long time for our natural groundwater to recharge. Depending on the landscape, it can take anywhere from one year to 1,000 years to infiltrate into the aquifers.
Lane Weiss of the Town of Boone Water Conservation Program says, "Harvesting rainwater prevents water from pooling around the foundation of your home, and helps prevent erosion. This harvested water can be used for various purposes including washing your dog, watering gardens, rinsing tools, washing cars and windows." There is no reason to use treated city water or groundwater for these types of uses.
In order to get their savings, customers must order their barrel online by April 24th. Boone and Watuga County is able to offer the discounted rates because of bulk purchasing and delivery. These barrels typically cost $129, but are now offered for only $75. The pick up day will be Friday May 1st, 2015.
According to the EPA, 40% of household water usage in summer is from lawn and garden watering. Homeowners can save 1,300 gallons of tap water every summer by purchasing a rain barrel.
www.epa.gov/reg3esd1/garden/pdf/what-is-rainbarrel.pdf
Go to the following website to order rain barrels.
http://www.rainbarrelprogram.org/watauga-county
Orders must be placed by April 24th, 2015 in order to get the discount. The barrels will be available for pick up on Friday May 1st for a one-day event.
What sets this rain barrel apart from others?
- Made in NC from 100% recycled plastic., mosquito proof, best in class overflow set up to withstand heavy rains so barrel won't back up into gutters. This barrel has optional flow direction with capabilities to attach multiple barrels.
For more information call 264-3061 (Cooperative Extension), 268-6250 (Town of Boone), or 264-0842 (Watauga County Soil and Water).
Contacts:
Lane Weiss – 828-262-4560, Lane.Weiss@townofboone.net
Janie Poe – 828-265-0842, Janie.Poe@watgov.org
Wendy Patoprsty – 828-264-3061, Wendy_Patoprsty@ncsu.edu
Contact
Rain Water Solutions
Mike Ruck
919-835-1699
rainwatersolutions.com
cell. 919-302-0506

Contact