EGT's J1 Film Funding on Kickstarter Producing for Less Than an Industry Standard Budget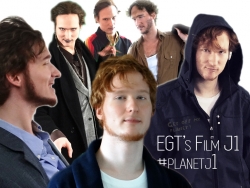 Brice, OH, February 14, 2015 --(
PR.com
)-- Justin Kazmierczak portrays multiple characters in a comedy adventure being produced this year with a top-notch makeup artist and special effects to create a film using less resources than the entertainment industry.
The teaser trailer is designed to prove that a feature film with a budget of just $58k is feasible. Justin Kazmierczak is seeking funding for the film through Kickstarter.
Justin is personally available for you through his cell: +1 (614) 378-9801 or instantly via email: justin.kaz@4egtv.net - The movie's dedicated site is PlanetJ1.com/ and the Kickstarter project at http://go.4egtv.net/ksj1
The teaser trailer was built with paid staff, creative use of photography equipment, and a whole lot of hard work. The teaser was filmed over 24 hours, edited under 100 hours, and mastered with consumer feedback in mind.
**********
EGT is an entertainment company that encourages people to attain their dreams whatever the cost. So "Go ahead, Change the word!"
Contact
EGT
Justin Kazmierczak
716-759-4348
4egtv.net

Contact