The Solatube Global Marketing Launches the International Year of Light Photo Contest
Solatube Global Marketing (SGM) is launching The Solatube Global Marketing International Year of Light Contest to kick off the 2015 International Year of Light and Light-Based Technologies (IYL2015). Participants may enter and submit photos via Facebook by March 31st, 2015. There will be 5 winners of a GoPro HERO3 Camera.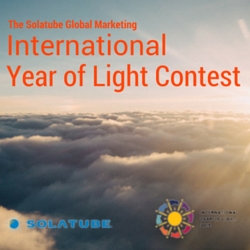 Carlsbad, CA, February 26, 2015 --(
PR.com
)-- Natural daylighting is critical to an individual's well-being in so many ways, SGM wants to celebrate daylight via Facebook fan photographs.
2015 is also Solatube's 25th year anniversary, so there is even more reason to celebrate the IYL2015. To celebrate, SGM invites amateur and professional photographers alike to capture daylight with their lens to commemorate the IYL2015. Facebook fan participants can let their imagination run wild and submit photos featuring how daylight interacts with their environment. Whether a participant's environment is urban or rural, home or office, mountain or planes, ocean or desert, SGM wants to see how the landscape of their fan's life is improved by daylight!
Solatube is passionate about daylighting and believe daylight is a basic want, a basic need, and a basic right. Everyone deserves daylight, every day. SGM wants to improve the quality of people's lives by designing high-performing, cost-efficient and affordable daylighting for homes and offices, alike.
Contest Prizes: Five lucky winners will win a GoPro HERO3
How to enter: On Facebook
https://www.facebook.com/SolaGlobal
or https://apps.agorapulse.com/go/45447/42715
Facebook fans can upload up to three of their own photos that include at least one of the components below by March 31st, 2015:
1) Daylight in One's Home Environment
2) Daylight in the Outdoors
3) Solatube Delivering Daylight into One's Home, Place of Work, or Public Space
Contact David Tetzlaf at +1-760-597-1111 or dtetzlaf@solaglobal.com with any questions. Official Rules are available at https://apps.agorapulse.com/go/45447/42715 or upon request.
No purchase necessary. Participants must be of legal age in the jurisdiction in which they reside. Enter contest by March 31st, 2015. See Official Rules for details.
About Solatube Global Marketing Inc.
Solatube Global Marketing Inc., based in Carlsbad, Calif. (northern San Diego County) in the United States, is the exclusive licensee and marketer of Tubular Daylighting Devices (TDDs) in Europe, Latin America, Central Asia and The Middle East. Established in May of 1998 the company's flagship product, the Solatube® Daylighting System, provides a revolutionary natural lighting solution for all types of residential and commercial applications and is the only spec-grade TDD currently available on the market. The maxim "Innovation in Daylighting™" reflects the company's commitment to the development and distribution of breakthrough daylighting technologies, which has resulted in numerous patents dating back to the mid-1980s. For more information please visit the Solatube Global Marketing Web site at www.solaglobal.com
Contact
Solatube Global Marketing
David Tetzlaf
760-597-1111
solaglobal.com

Contact
Multimedia
Solatube Global Marketing (SGM) is launching The Solatube Global Marketing International Year of Light Contest to kick off the 2015 International Year of Light and Light-Based Technologies (IYL2015). Participants may enter and submit photos via Facebook by March 31st, 2015. There will be 5 winners