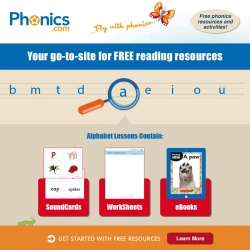 New York, NY, February 26, 2015 --(
PR.com
)-- Parents and teachers are now able to access free phonics resources, activities and games with a brand new online platform designed by educational publishing company, Blake Education.
Blake Education are the creators of the multi-award winning online reading program, Reading Eggs, which has received 3.4 million trial registrations worldwide.
Blake Education's new online platform, Phonics.com has released the first seven lessons of their new Phonics reading program, designed to make learning to read fun and easy for parents, educators and children from kindergarten and up.
The website includes free printables, worksheets, e-books and soundcards. Each lesson focuses on a different group of consonant and vowel phonemes, with sound cards to show the relationship between letters and pictures.
The worksheets and online activities help children review their skills before moving on to the next lesson, and can also be used for teachers in the classroom or as part of their lesson plans.
Phonics is the relationship between sounds and their spellings, and is a fundamental part of learning to read the English language.
Blake Education's CEO Matthew Sandblom said that with the launch of Phonics.com, parents in particular will be able to play a more hands-on role in their children's learning to read journey.
"The platform makes it easy for both teachers and parents to teach children to read. The resources are fun and highly engaging for young children to stay motivated to learn."
The new website complements the Reading Eggs program, which is designed to teach children aged 3-13 how to read by focusing on the five essential elements of reading instruction: phonemic awareness, phonics, fluency, vocabulary and comprehension.
With nationwide concerns over children's literacy rates, Blake Education emphasises the importance of starting early, and the significant role that parents play in their child's literacy development.
"Research is always telling us that parents need to start early," says Sandblom. "It's difficult for parents to know where to begin when teaching their child to read. Our aim is to make it as easy, fun and effective as possible, for everyone involved."
To learn more, please visit http://phonics.com/.