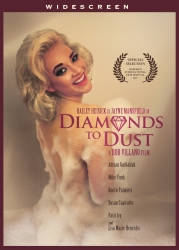 New York, NY, March 06, 2015 --(
PR.com
)-- The independent film by Frank Ferruccio Enterprises and Villanovision Films will be distributed by Indierights/Nelson Madison Films. The 2014 film premiered at Hoboken International Film Festival in May of 2014.
The film stars Actress Hailey Heisick as Jayne Mansfield. The late actress died at age 34 in June of 1967 leaving behind five children. Actress Mariska Hargitay of Law and Order SVU fame was asleep in the back seat of the vehicle which killed her mother.
The movie focuses on Mansfield's stardom and her rapid decline via alcohol and drugs. Her most notable husband was Mr. Universe Mickey Hargitay who is played by actor Adrian Gorbaliuk.
The film which is based on Frank Ferruccio's best selling book of the same name was published in 2007. The film was filmed in 2013 in New Jersey, New York and Mansfield's home state of Pennsylvania where she is buried.
The film will also be available on Amazon prime, Hulu, Xbox, Playstation, Vudu, Mgo, Vimeo and Youtube Channel Indierights films.