Stage IV Colon Cancer Survivor Celebrated Ten Year SIR-Spheres Anniversary with Weekend of Oscar Events
Meegan Hodges was given only three treatment choices for her terminal colon cancer: 1) do nothing 2) do chemo 3) try a new treatment called SIR-Spheres Microspheres. A decade of milestones has followed her decision.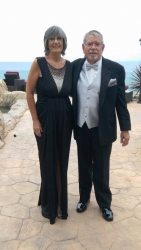 Los Angeles, CA, March 06, 2015 --(
PR.com
)-- Australian, Meegan Hodges lives in the greater western suburbs of Sydney NSW, She is 62 years old, she and her husband Peter have been married for 42 years and have 2 daughters, Jodi and Rebekka. They have very recently become grandparents to Owen and Ivy, miracle milestones that were not thought possible when Meegan was diagnosed with Stage IV Colon Cancer in October, 2004. Her cancer had already spread to the liver and she was given three options. 1) do nothing, 2) do chemo 3) or try a new treatment called SIR-Spheres Microspheres. She opted for the latter.
It is that targeted outpatient procedure, known as Selective Internal Radiation Therapy, that Meegan received on February 22, 2005, followed by a chemotherapy regimen called FOLFOX that has provided Meegan and Peter with ten wonderful years of togetherness. Meegan is one of the longest living recipients of SIR-Spheres and currently shows no evidence of disease. She celebrated her ten year anniversary with 22 additional cancer survivors and warriors in style with a weekend full of star studded events on the red carpet.
The weekend was a dream. From staying in a 10-bedroom mansion on Redondo Beach near Los Angeles to rubbing elbows with celebrities to attending the Night of 100 Stars on Sunday (Feb. 22) with other cancer warriors, it's an experience she will always cherish.
Cancer is a lonely diagnosis, and when it is advanced, can be extremely isolating. Even those who love and care for you most, don't always understand. There is a stigma with advanced cancer and yet many are able to live with it as a chronic disease, learning from others who are experiencing a similar diagnosis. Meegan has readily shared her story and friendship with others in her shoes for the past decade, giving guidance to those who are scared and hope to those who often feel hopeless.
She and her husband Peter were invited to attend the Oscar weekend activities through a nonprofit called
Say YES! to Hope
. YES provides resources, information, support and hope to anyone affected by an advanced cancer diagnosis.
In turn, Debbie Durkin of Durkin Entertainment invited YES! members to attend ECOLuxe Lounge with a "Salute to the Oscars" where the survivors had the opportunity to tell their stories with celebrities and media, raise awareness about living with advanced cancer and discuss the resources that are available.
The event also allowed for an emotional opportunity to listen to singer and song-writer Clay Thrash perform his song "
Gonna Beat This Thing
," the cancer-fighting anthem that he wrote for YES and those dealing with late stage cancer in their lives. This powerful song has kept Meegan and others inspired while going through difficult times. It was a chance to get dressed up, watch the Oscars, and not think about the cancer for a little while.
Rubbing elbows in a sea of celebrities (Frank Stallone, Doris Roberts, Kevin Sorbo, aka Hercules, Adina Porter, Greg Daniel, Ken Davitan, Patrick Warburton, Brent Burge, Jason Canovas, and Kevin Dobson) before the Academy Awards was a highlight. Gift bags were another treat and included Footzyfolds, snuggly blankets, professional make-up brushes, and original paintings by Tommy McDonell. Meegan and the other women wore beautiful gowns designed and donated by Dalia MacPhee exquisite jewelry donated by Remarkably Renee, and hair and make-up provided by Hollywood makeup artist Diana Lomelin and her team. As she posed for photos, Meegan revealed that all of the glitz and glamour felt surreal; as if she would soon wake up from a dream.
The best part of the weekend she stated, however, was connecting with the other cancer warriors, answering questions, sharing stories, and providing inspiration. For all those attending, Meegan's anniversary celebration of her treatment with SIR-Spheres, or "little magic beads," is enough to provide encouragement and hope to show that together, we can and are Gonna Beat This Thing called cancer!
Many of the weekends moments were captured by John Brune, who is an Emmy winning videographer and supporter of YES. He took photos and filmed individual stories. The videos will create lasting memories of an unexpected weekend filled with the magic, the glamor, and the beauty of the Oscars and all that Hollywood has to offer and to celebrate a miraculous journey beyond colon cancer.
Contact
Say YES to Hope
Suzanne Lindley
877-937-7478
www.sayyestohope.org

Contact