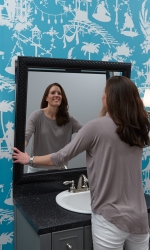 Charlotte, NC, March 11, 2015 --(
PR.com
)-- A desilvering mirror with dark, jagged markings along the edge can give a dated and dingy appearance to an otherwise clean and well-functioning bathroom. This damage is typical in bathroom settings due to repeated exposure to moisture and cleaning supplies. Lisa Huntting, president and inventor of
MirrorMate
frames shares an easy DIY home improvement idea for this common bathroom dilemma.
"While the first thought may be to replace the mirror, be mindful that large, wall-mounted mirrors are often difficult to remove and may be glued in place," explains Huntting. "A simple, more cost-effective and eco-friendly option, is to retain the current wall mirror and simply add a frame to the mirror."
This is something that can be done while the mirror is on the wall, using MirrorMate's patented mirror frames. The frames are specifically designed to cover the mirror's clips and press directly onto the glass while on the wall. It will immediately cover the desilvered edges and upgrade the look of the entire bathroom.
For other mirror makeovers, visit http://www.mirrormate.com/makeovers.
About MirrorMate LLC
A true entrepreneurial story, MirrorMate was started nearly a decade ago by Inventor and President Lisa Huntting in her garage. Huntting, a self-proclaimed HGTV addict, was inspired to create the retro-fit framing system for the unframed mirrors in her own home. Today, the company has grown to employ 17, occupy a 13,250 square foot manufacturing facility in Charlotte, North Carolina and, in its history, has sold over $20 million in frames. Nearly every major hotel chain has updated their plate glass mirrors using MirrorMate frames. The company's goal is simple: ensure every bare mirror in America is outfitted with a MirrorMate frame. As the original and industry leader, MirrorMate frames are patented in the U.S. and Canada and feature such unique design elements as a grooved inside edge that cover clips and hides the mirror's edge. This specially crafted frame ensures the look of a fully-framed, free hanging mirror. MirrorMate frames are eco-friendly, high quality frames. For more information, visit www.mirrormate.com.