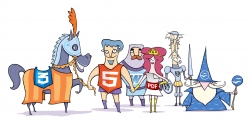 Madrid, Spain, March 11, 2015 --(
PR.com
)-- The Spanish start-up No-nonsenseLabs has just launched HTML52PDF v2.0 (
http://www.html52pdf.com
).
HTML52PDF is a free (for non-commercial use) software library that allows for the fast and easy generation of dynamical documents and business reports in a web server from any data source.
HTML52PDF is compatible with all standard platforms (LINUX, UNIX, WINDOWS or MAC) and generates documents in practically all available formats: PDF, Word, RTF and Open Document Format (.odt).
HTML52PDF is a flexible and easy to use tool that greatly simplify the generation of sophisticated documents and business reports with all kind of elements like, for example, headers and footers, tables of contents, web forms, charts, footnotes, math formulas as well as all other standard document components like paragraphs, sections, tables, lists, links, images, etcetera.
In order to streamline the generation of documents HTML52PDF:
· -- Allows for the direct insertion of HTML + CSS.
· -- May use templates created in Word, Open or Libre Office that include all the required formatting and branding.
· -- Integrates a charting engine.
All the code is open and it is profusely documented so advanced users may easily integrate the library in their workflow or use it as a plugin for their own software tools.
HTML52PDF can be freely and directly downloaded from
http://www.html52pdf.com/download
without the need to provide any additional info.
About No-nonsense Labs
No-nonsenseLabs is a spanish start-up company located in Madrid (Spain) specialized in the development of no-nonsensical software and mobile apps.