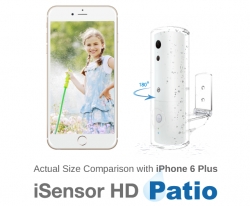 Amsterdam, Netherlands, March 14, 2015 --(
PR.com
)-- Amaryllo International B.V. (
Amaryllo
), founded in Amsterdam, the Netherlands, announces that it is ready to ship its first outdoor security camera,
iSensor HD Patio
. Smaller than your iPhone 6, iSensor HD Patio is well protected by a custom-made protector to provide weather and water resistance. It works from -20C to 40C and can resist direct water splash.
Featuring 1280 x 720 HD resolution with a built-in passive infrared (PIR) sensor, iSensor HD Patio, is highlighted by its unique ability to detect motion movement with its PIR sensor. Unlike conventional CCTVs, iSensor HD Patio's protector offers a special membrane to allow body heat to be detected by the PIR sensor. This unique design provides an additional home security protection, and once triggered, it will take an instant snapshot and send it to pre-registered mobile devices anywhere, anytime.
The patented industry design enables iSensor HD Patio to be remotely controlled by users to view camera feed on their smart mobile devices. The ability to pan and view over 180 degrees has never been seen in such miniature outdoor surveillance cameras. By employing WebRTC, iSensor HD Patio offers the best real-time video communications with the least latency. A built-in 4GB memory provides an additional needed buffer to upload recorded videos to your free 15 GB Google Drive storage, saving consumers money and trouble in cloud storage.
Amaryllo is the first company developing and marketing smart home security products with WebRTC technologies. By employing the world's best 256-bit encryption, consumers' privacy is well protected. For more information on iSensor HD Patio, please visit our
Indiegogo
or
Kickstarter
campaigns. For product information, please visit Amaryllo website at www.amaryllo.eu.
About Amaryllo International B.V.
Amaryllo International B.V. (Amaryllo) is a worldwide leading security robot company. Founded in Amsterdam, the Netherlands with production facilities in Asia. Amaryllo develops award-winning security robots and home security products. Amaryllo is a licensee of Apple MFi, Skype Developer, Windows Developer, Google Play Developer, AAC+, UPnP, and Bluetooth SIG, etc.
540 Singel, 1017 AZ, Amsterdam, the Netherlands
T: +31 208941387
F: +31 208941333
sales.ai@amaryllo.eu
www.amaryllo.eu