Sesame: Reinventing Keys to Make Life Smarter
A Stanford masters student raised half a million dollars a week after launching his product on Kickstarter. Sesame - the world's first instant smart lock - was introduced on Feb. 25, 2015.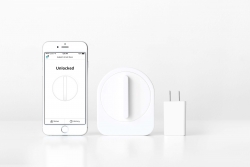 Palo Alto, CA, March 24, 2015 --(
PR.com
)-- A little more than seven years ago, Steve Jobs said he would be introducing a wide-screen iPod with touch controls, a mobile phone, and an internet device. But it wasn't three products. It was one product. It was the iPhone.
The story inspired Jerming Gu, the founder of Candy House, when he was envisioning Sesame, the the world's first instant smart lock that allows users to control their lock with their smartphone app.
Now Sesame is the most popular technology project on Kickstarter and has attracted thousands of
Kickstarter
backers immediately after its launch on Feb. 25, 2015.
"People will carry less and less things when leave the house, that's the trend," said Jerming Gu, founder of Candy House.
Wallet, keys, and cell phone. People used to take three things when they left home. Today the wallet is gradually being replaced. The Starbucks app pays your green tea frappuccino; you Venmo money to a friend for getting late-night pizza; you hop in an Uber without worrying about cab fare or tip.
"With Sesame, the next thing to disappear is the keys," said Gu.
Connected to users' phone via Bluetooth, Sesame allows users full control of the lock, even to the exact angle a lock turns. With the optional Wi-Fi Access Point that connects Sesame to the Internet, users don't even have to be physically near Sesame. The remote control feature allows people to send access to their friends and keep track of whether the doors are locked wherever they are.
With five-patented design, Sesame works with just about any deadbolt in the world. Users can install it in seconds, without replacing existing lock or removing anything.
Contact
Candy House Inc.
Jerming Gu
650-644-5681
candyhouse.co

Contact