Make the Most of Long Weekends on a SpiceRoads Pop-Up Cycle Tour
SpiceRoads develops a range of short tours in Asia to coincide with regional public holidays.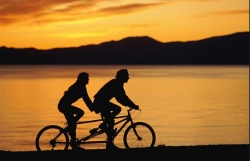 Bangkok, Thailand, March 17, 2015 --(
PR.com
)-- SpiceRoads has developed a range of
cycle tours
that coincide with local Asia regional holidays. These adventures have been designed for anyone wanting to maximize their valuable holiday time and explore the region.
The 'Pop Up' concept
Struan Robertson, CEO of SpiceRoads, says, "These tours have been designed specifically for adventurous people who are time poor. All destinations are great places to cycle, interesting culturally and are easy to get to!"
The Tours
Angkor Explorer – A 3-day tour cycling beneath towering fig trees among a thousand years of Khmer history of Angkor.
Dates: April 3-5 (Easter)
Meandering the Mekong – A 4-day adventure to explore the overflowing life of Vietnam's "rice bucket."
Dates: April 3-6 (Easter), April 11-14 (Songkran)
Sri Lanka Heritage by Bicycle – A 7-day adventure through rural Sri Lanka's visiting UNESCO World Heritage sites.
Dates: April 12-18 (Songkran)
Red River Delta by Bike and Boat – A 3-day tour through the vibrant paddies fields with magnificent Karst Peaks as a backdrop to the lush jungles of Cuc Phuong National Park.
Dates: April 3-5 (Easter), May 3-5 (May public holidays)
Cycling Cambodia's Pepper Route – A 4-day tour to explore Cambodian's unspolit rural life, Khmer temples and peaceful beaches in a region famous for its pepper.
Dates: April 11-14 (Songkran)
Bali Mountain Biking Adventure – A 7-day off-road adventure riding exploring Batur Crater, canyons, rice paddies and gorgeous beaches.
Dates: April 12 – 18 (Songkran)
Luang Prabang Adventure – A 3/4-day ride through northern Laos magnificent landscape getting a glimpse into rural country life.
Dates: May 2-5 (May public holidays)
About SpiceRoads
SpiceRoads is a specialist bicycle tour operator based in Bangkok offering a range of two-wheel tours in over 25 destinations worldwide. SpiceRoads tours cater for every level of cyclist and range from day trips to complete country explorations. Participants are invited to join tours with fixed date departures scheduled throughout the year, while private or tailor-made tours can be arranged for groups or individuals on request. The highly professional operation employs experienced cycle guides to lead all tours and has a fleet of well-maintained mountain and road bikes and support vehicles.
Contact
SpiceRoads Co., Ltd
Sally Hoare
+66 (0) 92 504 0361
https://www.spiceroads.com/tours/vietnam_cambodia

Contact