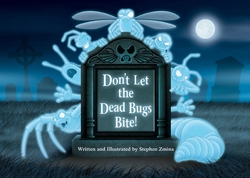 Gilroy, CA, March 17, 2015 --(
PR.com
)-- What would you do if all of the bugs you killed as a child came back from the dead to haunt your town? That's what two boys experience after they finish a bug killing spree throughout their neighborhood, despite the warnings from the local mortician. "Don't Let the Dead Bugs Bite!" by Stephen Zmina is a family-friendly tale that kids of all ages will enjoy. The publisher, All About Kids Publishing, launched a Kickstarter campaign Monday to raise funds for the first print run of the hardcover edition.
Visitors to the Don't Let the Dead Bugs Bite! Kickstarter page can view a video of the whole book complete with music, sound effects and narration by Jamieson Price. Jamieson Price is a Los Angeles-based actor and voice over artist with extensive stage, screen, and interactive media credits. His screen credits include the movie The Patriot with Mel Gibson.
Will the boys be able to save the town before it's too late? To find out follow the link and view the video of "Don't Let the Dead Bugs Bite!" Don't bee afraid! Bee part of the buzz!
www.kickstarter.com/projects/377205025/dont-let-the-dead-bugs-bite-1