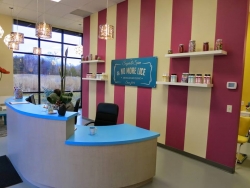 Blaine, MN, March 19, 2015 --(
PR.com
)-- For many families, head lice is more than just a nuisance. Without the proper resources, time, and education, head lice can escalate to unmanageable proportions. One female louse can lay up to ten eggs a day resulting in over two hundred nits (eggs) in her lifetime. It is easy to see how lice can multiply into thousands of nits and bugs in just a few short weeks.
A family in Anoka, MN had been battling head lice for months. Two young girls in the family dealt with the stress and frustration of their mother's efforts to rid them of lice. She tried home remedies such as oil, vinegar, and mayonnaise and several over-the-counter products. Nothing worked. Then she discovered Sugar & Spice & No More Lice, a new head lice removal clinic in Blaine, MN.
"I can't thank them enough," the children's mother stated. "I was desperate at this point. The staff made us feel so comfortable and reassured that our family would finally be lice free." She went on to say that the technicians also educated her on what to do if her children had another outbreak. "They gave me the tools and knowledge to prevent head lice and to treat it if it does happen again. I will forever be thankful to them."
Sugar & Spice & No More Lice uses a safe and chemical free method to remove head lice. They are located in Blaine, MN.
www.sugarandspiceandnomorelice.com