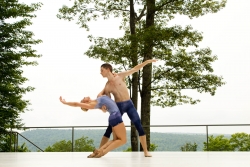 Colorado Springs, CO, March 19, 2015 --(
PR.com
)-- Colorado Springs Dance Theatre, a Pikes Peak regional non-profit, is proud to present performances by the Peridance Contemporary Dance Company of New York City on April 18, 1:30 and 7:30 p.m., at Colorado Springs Fine Arts Center, located at 30 W. Dale St., Colorado Springs, CO 80903. (Tickets: $37.50 Adult, $32.50 for FAC members, $22.50 Children and students with ID; Call 719-634-5583 for tickets.)
Peridance Contemporary Dance Company was founded in 1984 by choreographer and Artistic Director, Igal Perry. Darrell Wood of NYC Dance Stuff has this to say of Mr. Perry's choreography: "Igal Perry is a master at his craft; he is an artist unafraid to explore, to stretch himself in how he approaches and uses the body in space." Peridance performers are classically trained and come from Japan, The Netherlands, Canada, USA, Spain, and Colombia. The company has an annual season of performances in New York, as well as going on both national and international tours.
In addition, on April 16 and 17, the Colorado Springs Dance Theatre will host Master Classes in jazz and ballet, taught by top Peridance performers. These classes are open to local dance students ages 11 and up. The annual Esther Geoffrey Ballet Scholarship Competition and the annual Jazz Scholarship Competition, both funded by the Colorado Springs Dance Theatre, will take place in conjunction with these classes. On April 16, Peridance will also host auditions. Colorado Springs is the only approved location for Peridance auditions in the tri-state area.
For more information, visit
www.csdance.org
.
Sponsors: Peak Radar, Wells Fargo, Bee Vradenburg Foundation, 5 Star Bank, Give!, Rahaman Law, Allergy123, All American Sports, Skybridge Health, and Kwon Acupuncture.
Contact: Emily Daines with CSDT Marketing at 719-505-4676 or
marketing@csdance.org