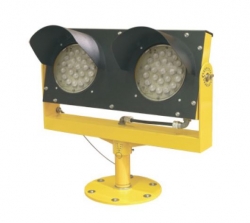 Somerville, Australia, March 20, 2015 --(
PR.com
)-- Avlite Systems announced the release of the solar LED Elevated Runway Guard Light ERGL. The solar LED Elevated Runway Guard Light is a unidirectional, yellow, alternately flashing fixture that provides a warning to pilots and vehicles that they are approaching an active runway. The solar ERGL installs in minutes with no trenching, cabling, or mains power required, and can be easily and quickly relocated.
Airfield ground lighting teams, have been demanding a compliant solar LED system that is affordable, portable and requires minimal maintenance and Avlite has responded by delivering a solar ERGL. The ERGL is complaint to both FAA and ICAO standards.
The ERGL Provides 24-Hour unidirectional marking for runway and taxiway intersections with 45 – 50 alternating yellow flashes per minute located at the hold position. The Elevated Runway Guard Light ERGL is typically installed as a pair, with one on either side of the taxiway holding position. The ERGL can also be used as traffic lights on airport service roads and are available in traffic red, traffic yellow or other custom colours as required.
The two optical assemblies use energy efficient High Intensity LEDs and the light beam elevation is adjustable in one degree increments. The integrated solar module and battery system offers considerable savings in power and installation costs. The solar module can be angled to maximise solar collection to charge the battery.
With the use of Solar and energy efficient High Intensity LEDs there is a significant reduction in maintenance costs, time and the added expenses associated with re-lamping. Avlite's LEDs have an expected life span of more than 100,000 hours.
The solar LED Elevated Runway Guard Light is available now, for more information please visit the product information page by clicking (
http://avlite.com/products/product.php?prod_code=AV-ERGL
) for the specification sheet (http://avlite.com/files/pdf/products/AV-ERGL_pdf.pdf) or alternatively contact an authorised Avlite Distributor, to locate your local distributor (
http://avlite.com/enquiries/distributors.php
).
Company Information
Avlite Systems is a world-class aviation lighting systems manufacturer providing turnkey solutions for defence, government, civil and humanitarian aid applications in the most remote, toughest environments. Avlite's commitment to research and development, product innovation and agile manufacturing continues to make us an industry leader in aviation lighting, while being environmentally responsible by providing clean, green, renewable energy sources with a minimal environmental footprint.
Press Contact:
Lucas Bracken │Global Marketing Executive
Company name: Avlite Systems
Telephone number: +61 (0)3 5977 6128
Fax number: +61 (0)3 5977 6124
Email address: marketing@avlite.com
Website address:
www.avlite.com