Assumptions - a New Card Game Where Everyone Gets Stereotyped
A graphic designer from Ithaca, New York is trying to create a hilarious and simple card game where first impressions are the only impressions.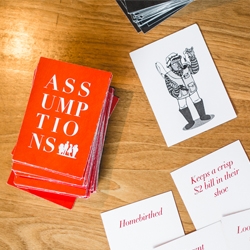 Ithaca, NY, March 21, 2015 --(
PR.com
)-- You Think This Is A Game proudly presents...a game!
Assumptions is a not-safe-for-work party game that encourages people to suggest pre-made assumptions about illustrated characters. Think Cards Against Humanity but with pictures instead of a prompt. Or Apples To Apples but with stereotypes about people you don't know. Is there potential to offend everyone? Of course. But there is just as much potential to break down stereotypes as much as there is to reinforce them; it's all about the players.
The Kickstarter campaign for the game launched on March 15th and has a goal of $8999 which will pay for manufacturing costs for the product, and shipping for the first 100 backers who bought the game (a reward that sold out in the first day).
The game includes 100 totally safe for work characters, it is the 300 assumption cards about these characters that you need to watch out for (swearing and references to adult situations). Creator Tyler Finck says that games of Assumptions "consists of a lot of laughing over totally reasonable assumptions about extreme characters, and absurd, explicit assumptions about ordinary looking people. Sometimes the juxtaposition is hilarious, other times it's the most predictable assumptions that win." While this is Finck's first game, he has made and distributed fonts (Ostrich Sans) and iPhone apps (Piction) in the past.
The artwork was created by UK illustrator Lauren Baker, who was the first person to respond to a tweet from Finck announcing an interesting illustration opportunity. Characters include a female bodybuilder, teenage skateboarder, business executive, fisherman, college student, and 95 other interesting people from all walks of life. The illustrations are beautifully executed in grayscale but don't be deceived by their simplicity; each one has a unique personality, and that's what makes Assumptions enjoyable for hours on end.
The Kickstarter campaign runs until Tuesday April 14th, 2015 - http://kck.st/1NY5SCW
Number of players: 4-20, it's a party game
Time required: 10 min until someone cries or a fight breaks out
Recommended ages: 18+
Contact
You Think This Is A Game LLC
Tyler Finck
607-216-8779
http://www.youthinkthisisagame.com

Contact
Multimedia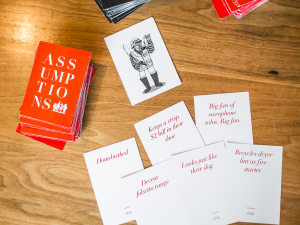 One player flips a random character card, all other players play an assumption from their hand about the character.