Verbalized Offers Quick, Convenient, Wireless Control of LED Sign Content
Users can control display content of electronic signs remotely with their phone, mobile device or computer.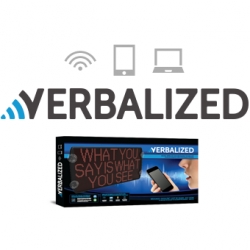 Edmonton, Canada, March 25, 2015 --(
PR.com
)-- Verbalized Limited, an Edmonton, Alberta, Canada technology firm, has integrated state-of-the-art asset management capabilities into its programmable LED signs. Users can easily update the signs' dynamic or static text in real time using a smart phone, mobile device or computer. Verbalized clients now have free access to a mobile application and online management tool to instantly program and update digital display content. The app and online tool can be used with any Internet, Wi-Fi, 3G or Bluetooth connection.
This user-friendly, wireless feature offers clear advantages for business owners. LED advertising messaging can be updated quickly to reflect current offers and the most up-to-date information about the business. In addition, the text of a Verbalized business sign can be changed from anywhere in the world. The convenience of this mobile capability also extends to non-commercial uses of Verbalized LED signs. For example, in production plants or staff rooms, safety messages, upcoming events and deadlines, and other information can be easily programmed to appear on the electronic display.
People today are very comfortable using computers and mobile technology. This is what prompted Verbalized President Peter Mcgie to create an application that enables users to employ their knowledge to directly control the creative and messaging content of their LED signs. Users can now make on-the-go updates to the messaging directed at customers, staff, etc.
"Our Verbalized signs use a patented technology that allow users to update their wireless LED signs instantly from their cellphone. This combination of mobile app and wireless technology is a revolution to the electronic sign industry," says Mcgie
Verbalized creates affordable LED signs for use by businesses and the general public. Its newest product, to be released shortly, is a 22″ LED sign with the ability to be updated wirelessly via computer, smart phone or other mobile device.
About Verbalized
Verbalized Limited is a technology company based in Edmonton, Alberta, that specialized in wireless digital sign production, mounting solutions and synchronized sign software. Inspired by the simple notion that digital signage should be able to be instantaneously updated for seamless virtual communication on any surface, Verbalized is committed to helping users get their message across with ease and impact.
For more information about Verbalized, email info(at)verbalized(dot)ca, call 1-888-363-2294 or visit
verbalized.ca
.
Contact
Verbalized Limited
Kevin Bazinet
1-888-363-2294
verbalized.ca

Contact