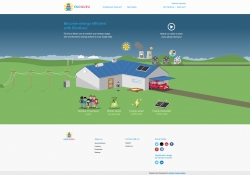 San Francisco, CA, March 28, 2015 --(
PR.com
)-- Ekoguru.com, the energy awareness app that makes saving energy a social, fun and easy habit for the whole family launched on Earth Hour day.
Ekoguru allows you to:
-Determine the right size solar system for your house or small business;
-Load your appliances and determine your usage and efficiency per room;
-Load and view your utility data to determine your cost and usage so you can set your energy saving goals;
-Challenge your friends to be more efficient and dare them to fun energy saving tasks;
-Ekoguru provides recommendations on more efficient appliances to save energy and money.
Ekoguru is designed to be a global app, making energy awareness a social and fun habit. Ekoguru want's you to challenge your friends to sign up and commit to save energy. Dare your friends via social media. Use the Challenge Your Friends functionality to create all kinds of creative and fun challenges, upload it to social media at #ekogurudare.
Go to Ekoguru.com.