ImageStation Makes Working with Scanned Images and Documents Easy
Technology has made our lives easy and provided upgrades one can barely imagine. Today, innovative technology can turn out products easily and in minutes, allowing people to reap the benefits.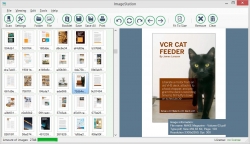 Minsk, Belarus, April 27, 2015 --(
PR.com
)--
ImageStation
is a new software that capable of scanning, conversing, stitching and it allows users to create booklets from any scanned picture. ImageStation is powered by a compact interface and has many options that will allow you to work effectively with documents and other scanned copies. ImageStation itself runs on Windows without requiring internet access. Below are the advantages users will benefit from when using ImageStation:
ImageStation scans quickly using unique algorithms that allow for the scanning of big size documents. It is compatible with sheetfed scanners and integrates with a majority of scanners' modifications such as WIA-scanners. Also, this application can work with web cams.
ImageStation saves images and documents to PNG, JPG, TIFF and PDF. It should be emphasized that it also has the ability to save all images per page in one click with automatic pagination.
ImageStation can make booklets or simply put, books, if you need to print information in a more comfortable format for reading. Note, that this feature allows for paper saving.
ImageStation allows for fast loading of lots of different format files (JPEG, PNG, BMP, PDF and TIFF). Also the software has the window for thumbnails which can be moved by just simply dragging.
And lastly, there is an apparent bonus from ImageStation developers – the ability to cut one image both vertically and horizontally. It is a very useful function in working with scanned broadsides.
ImageStation is an optimal utility program that allows users to process scanned images in an easy and stable manner. The application of ImageStation is also really wide; users can use it for almost anything, just use your imagination. If there are any problems, no need to worry, ImageStation provides technical support in both English and Russian languages.
Contact
ImageStation
Eugen Martinchik
+375291688910
http://imagestation.info

Contact